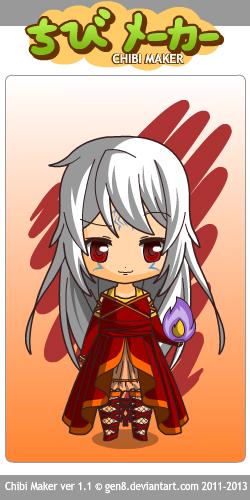 OC Information (WARNING: VERY EXTENSIVE)(pic is goddess form, human form will be on first chapter)
Anime Universe: Kamigami no Asobi (Mischief of the Gods)
Name: Adoni Thávma [Αδωνς θαύμα]
Race: God (Greek)
God of: Fire
Gender: Female
Age:
-Physically: 15
-Biologically: "It's rude to ask a woman her age, didn't you know?" - Adoni/Shino
Sign: "Never bothered to check..." - Adoni/Shino
Element: Fire
Hair:
-Normally: Blonde
-In Goddess Form: White
Eyes:
-Normally: Teal
-In Goddess Form: Crimson
Height: 170.18 cm (5'7")
Weight: 120 lbs
Alias: Kobuchi Shino [古淵志野]
Sexual Orientation: Straight
Status: Alive
Personality: Harsh sometimes, but also kind; tempermental, also a complete smartass
Distinctive Feature(s):
-Normally: Has a thin scar on her left hip from a knife slash
-In Goddess Form: Gets pale blue marks on her sides, wrists, shoulders, ankles, thighs, hips, and face like Sesshomaru that amplify her power
Love Interest: Not decided
Favorite:
-Food:
Meals: Spicy Ramen
Sweets/Treats/Desserts: Baklava, Pocky, Funnel Cake
Drinks: Bubble Tea, Grape Soda
-Season: Summer
-Day: Friday
-Animal: Cats
-Flower: Sakura
Friends: The gods, Kusanagi Yui
Enemies: N/A
Quote(s):
-"No f*cking shit, Sherlock."
-"I have absolutely no idea whatsoever what you are talking about~."
Occupation: Student
Residence: Women's Dorm
History: Zeus' daughter, brother to Dionysus and Apollon, went to travel in Japan for about a hundred years, accidentally destroyed things a lot in Goddess Form
Skill(s):
-Fighting
-Technical battles
-Pissing people off
-Intelligence
Negative Points:
- "That's for me to know, and for you to find out." - Adoni/Shino
Dislikes: Zeus' tyrannical bullsh*t
(Personal) Body Measurements:
Bust: 36C (Average-ish)
Waist: Small
Hip: Small
Shoe Size: Normal
Random Fact(s) About Adoni/Shino:
1. She likes humanity.
2. She curses without caring.
3. She's known to be a great singer.
4. She can beat someone up even in human form.
5. She is gorgeous, and has a fan club.
6. She is easily the friendliest and most familiar god there by far with humans.
7. She's shown open dislike for Tsukito's extensive note-taking.
8. She likes matchmaking Yui with the gods and then teasing them about it. Especially Apollon.
9. Adoni/Shino's limiter is a red diamond earring with a speck of gold in the center of the jewel.
10. She absolutely HATES Aphrodite, because she's a stuck-up snob who's looks are all due to her powers and parenting.