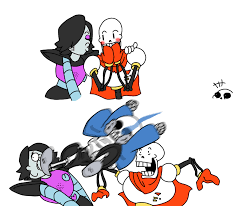 Things start falling into place.
Things have all been going swell. Nothing has been going wrong, things are amazing here. Sans and I have created a bond, Papyrus and I have publicly announced our relationship...
Next is Undyne.
I haven't met her yet, but from what I heard, she is scary and might want to kill me. I guess we'll just have to find out: Papyrus is taking me there today.
"SO HUMAN! ARE YOU EXCITED TO MEET UNDYNE?"
I was scared out of my wits! How am I supposed to respond? I mumbled "Sure..." quietly.
"OH, DON'T BE SO SCARED, (Y/N)!!! SHE IS REALLY NICE IF YOU GET ON HER GOOD SIDE!!!" Papyrus came down to hug me. "Don't be nervous, she'll adore you instantly!"
"I'm not so sure about that, Pap. What if she-"
"WE'RE HERE!!!"
I guess that we made it. He knocked on the door.
"Hi Papyrus!!! And... You must be (Y/N)! I've heard A LOT about you! How about you two come inside?" Undyne answered the door. She saw us and seemed to put on a strained smile. She seems nice enough. We both went into her house. Papyrus seemed to light up for a second.
"WHOOPSIE! I FORGOT THAT... I NEED TO USE THE BATHROOM! I HAVE TO GET GOING!!!" And then he jumped out the window. I giggled and Undyne smiled.
"Usually he nails the landing," She told me and I laughed harder. "So... What are you doing here?"
"U-um..." I looked around to see if anyone could save me. "Paps... Wanted me to meet you, so..."
"I see. He wants us to be friends. Sure, we can be friends."
"W-what?"
"I've heard that you're a great person. You like every monster you meet. You've spared everyone. That's pretty awesome, for a human." She said with a huge smile.
We spent a couple of hours taking about mundane things. We talked about cooking, music, Papyrus, Asgore, life in general, the surface, and Alphys, her girlfriend. We laughed a ton, we smiled, shared stories, joked around, and I was even invited to train anytime! That went a LOT better than I thought it would.
I left her house with a smile and walked back to Snowdin on my own. New friend! This will probably make my life so much easier.