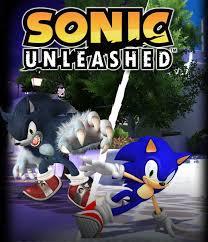 #10: Sonic Unleashed.
This is a weird choice for me. I've always liked Sonic Unleashed due to the fact he is a werehog. He looked so cool but one thing bothers me. The giant bird is the keeper of either the chaos emeralds or the gaia temples which are connected to the emeralds. The chaos emeralds are connected to the master emerald. So would Knuckles and the bird be cousins or something? Another thing, why wasn't Knuckles included in this? They have Sonic, Tails, Amy, Chip and no Knuckles. I get the plot mostly to Sonic Unleashed but seriously the moment when Sonic fell from the ship to earth made no sense. He SHOULD have died. And don't even start with the whole "well Shadow fell from that hight and he survived". Also WTH Chip and Dark Gaia's sizes make no sense. Chip is the size of my teddy bear while Dark Gaia is freakin Godzilla. And how did Chip create that weird rock figure?! So are Chip, the bird, and Knuckles all related now? Is this some- wait.... Go Go Power Rangers! XD Back to the chapter. Where in the good got name of freakin Isis did he put chocolate? I would not eat the chocolate if I were you.
It was sort of sudden for them to bring Sonic a new form but it was cool. Also seriously Eggman. You always wonder why Eggman loses to Sonic!? Well Eggman caught Super Sonic!? He then took the emeralds away. He was defenseless!? He could've finished Sonic off but no let your arch enemy go with all the chaos emeralds in-tack. In this game these are only FEW moments where you KNOW Sonic should've died. Not that I wanted that but seriously it was so messed up. The gameplay itself is a little clunky I'll admit. You barely can control Sonic's freakin Jake the Dog arms from adventure time....Omg..am I geinus?
That makes me wonder about the Sonic franchise now but seriously. Someone explain if Knuckles and the bird and Chip are related. That bird... "And I'll change you like a remix and I'll raise you by a phoenix!" What up Fall Out Boy referance. Also please remember that not all the stuff I said belongs to me. It belongs to Youtubers so I don't have all the credit just to let you know. Just like the song "The Phoenix is by Fall Out Boy and I do not own them. This isn't Alexis the Hedgebat talking, or Alexis Black, but ME. Alexis D T and these are my opinions so no negative comments and see you when I post my next chapter.