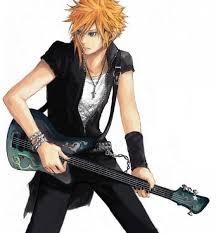 Sesa
Kara walked the halls, blaring her earbuds as she ignored the morons around her.
Her school was located in lower Tokyo, the 'Warzone' since the virus outbreak. It was OK, but... The virus was merciless, and the people were just assholes.
This Virus, J-89 or 'Insane Jane' turned those infected with it into light haired, blue eyed people with a deeper understanding of their own existence and unlocked more than 20% of the brain, thus making them smarter and quicker.
The downside was it included dilusions and general insanity, permanent side effects because it affected the brain, not the body. If left untreated, these patients would commit acts ranging from mass suicide to mass homicides.
But thanks to an American team of botonists, they found a cure before it could do real damage. But those that were infected suffered permanent side effects from the virus, and they were given hell about it.
Kara just so happened to be Patient 0.
So yeah.
She got bullied.
A lot.
"Hey, Kara! You should've died instead of Okio!" A boy says, slamming an egg carton into her head.
She wipes it off with steady hands, quite used to this by now.
"Stop." Is all she says, and a girl trips her.
"For Atsuki, freak." She spits, venom and anger apparent.
Kara lays there, not wanting to stand up.
Standing up would mean more bullying.
More name calling.
More hate....
"Oi, ya wankas. Leave her alone." A boy says, snarling.
Her curiosity peaks, and she just barely raises her head to look at the boy. The other kids there just walked away, and the boy walked over to her.
Strange.
He was Japanese, but he had icy blue eyes and honey/blood hair...
"Who are you?" Kara asked, standing up slowly. She hasn't seen him around...
He nods, fixing the guitar on his shoulder. "Sesa Okomota. I'm new here."
Kara stared at him.
Why was he being nice to her?
She was patient Zero...
"I'm Kara Nuni. Why are you here?" She asks, feeling...
What was she feeling?
No...
It couldn't be...
He adjusts the guitar strap, shrugging. "Cause I got kicked out of my last school..?" He replies, not caring at all.
She simply stares at him, wondering what was going through his mind.
"Well, I should go."
She shakes her head.
"Please, stay. I'm in no hurry." She says, joining him.
He shrugs it off, walking around the school. He didn't necessarily hate school, but he'd rather be at home.
"Why the bloody hell are ya following me?" He asks, spitting on the ground and turning to face her.
She shrugged.
"You stood up for me, so I thought you'd want a friend." She replies, climbing to his back and laying her head on his shoulder.
He sighed, carrying her with him on his back.
Looks like I don't have a choice... He thought, shruggingnit off and stopping at the little pond the school had. He unstrapped his guitar and strummed it a few times, playing a few notes and eventually singing a melody.
Kara listened, totally entranced.
She didn't know what an angel sounded like, but he was the most angelic being shed ever met...
Maybe...
Just maybe...