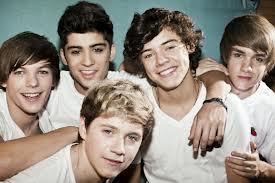 Meeting the Boys
"Ally, come on, we're gonna miss the plane. If I miss this flight, I'm gonna get in trouble with Simon! Do you want that?!" My twin brother, Zayn, yelled up the stairs at me. I rolled my eyes and dragged my suitcases down the stairs.
"I'm right here, Zayn. You don't have to get your granny panties in a twist." I laughed at Zayn's scowl, then followed him out to the car. We put our suitcases in the trunk, got in the backseat, and left my house. While we were waiting for our flight name to be called, I thought about what could be in store for me in the next three months. I was going on tour with "the boys", as Zayn called them. My friends had all been really jealous, because they wanted to be in my place, but the only reason I was coming was because I was in a... SPECIAL situation.
Zayn gasped when he heard the flight name, then grabbed my arm and dragged me towards the gate. I winced, since he had grabbed my arm on the bruised part, but managed to keep a straight face and run alongside him. Zayn finally plopped into a seat beside a window and I sat next to him.
"So, I know that we're doing this for, you know, HIM, but I still think this is a great time for you to finally meet the rest of the guys. Oh yeah, and Harry misses you." I giggled at the last part, since we had just talked two days ago. Then I saw Zayn looking at me worriedly.
"What?" I asked, confused.
"Nothing, I just hope that you and Louis get on well."
I sgihed. "Zayn, it's been a long time since then. You know that we are over each other, and I love Eleanor. What is there to be worried about?"
Zayn pursed his lips in thought. After a few seconds, he turned back to me. "You're right, Ally. I guess it's just the overprotective brother in me coming out."
I smiled and shook my head at him, then put my headphones in and turned on my iPod. After an hour or two, I fell asleep.
Two Hours Later
I woke up to Zayn shaking me. I pulled out my headphones and looked around. "What?" I asked him.
"Well, you were having another nightmare, and we're here." Zayn said as he got up and walked into the aisle. "Come on, I want you to meet the guys as soon as possible."
I sighed and followed him. We managed to avoid his fans and get to the limo without many problems. Zayn looked at himself in the rearview mirror while I stared at him with one eyebrow raised. He noticed me staring and posed as best he could in the small space. "What? Gettin' a crush on your hot brother?" Zayn said mockingly.
I shook my head. "No, just wondering how someone who is admired by so many girls can be such a girl himself." Zayn gasped like he was offended, even though I knew he wasn't. Then we got into a bit of a catfight, slapping at each other randomly, until we stopped in front of the hotel that we were going to be staying at.
Zayn smothed his hair and thanked the driver, then helped me out of the car and grabbed his suitcases. I grabbed mine, and we walked up the stairs into the lobby.
We were given the keys to the room and too kthe elevator up. Zayn smirked when he saw me staring open-mouthed at the complicated decorations. I frowned and playfully hit him, then stopped outside of the door. I looked at Zayn, who was struggling with his things and the key. "Um, maybe we should knock." I said, hoping he wouldn't hurt himself.
Zayn shook his head. "No, I'm fine." He somehow managed to unlock the door and stumble in. I follwed him slowly and was faced with Harry.
"OMG, you're finally here!" He screamed, running up to me and giving me a bear hug. I smiled and hugged him back, then turned towards Zayn, who was talking quietly to a boy who looked like Louis, except he had shaved his head. I blinked shocked, then laughed when Harry pulled me towards the T.V.
Zayn made Harry let me go, which took a lot of convincing, and introduced me to the boys he had been talking to, Liam. I had a short conversation with him before Harry pulled me away, saying that if I wasn't careful, I would become a party pooper like Liam. I laughed, but I thought that Liam was very nice, even though he seemed very sad, for some reason.
Louis hopped into the room at the sound of Harry's yells of happiness, and his eyes widened when he saw me. "Hey there, Ally." He said, smiling and waving. I smiled and waved back, while Harry continued to tell me all the cool things that had happened so far.
I saw Liam look around confused, then he shushed Harry. He didn't look happy about it, but quieted down. Then Liam nodded towards Louis, who smirked, took a deep breath, and yelled, "NIALL! I THINK LIAM'S HAVING A PANIC ATTACK, YOU BETTER GET IN HERE!!!"
My eyes widened and I glanced at Liam again to make sure that he was okay. He smiled at me and faced the doorway expectantly. My eyebrows furrowed and I looked at the boy that ran in. His blonde hair bounced lightly as his chest heaved. All the other guys laughed at him as his face turned red in embarrassment.
"What the hell was that for, Louis?!" The boy said in between catching his breath. Louis couldn't talk since he was laughing so hard, but he managed to point at me before falling down. The boy looked at me and his eyes widened to the point where he looked like he had been punched in the stomach. I smiled and said, "Uh, hi. I'm Ally, Zayn's sister. Are you okay?"
He shook his head and straightened up. "Yeah, I'm fine. I'm Niall, it's nice to meet you, Ally." He said, and I noticed his Irish accent. I shook his hand and turned back to Zayn. "Will you shut up? It was not that funny, I don't see why you can't stop laughing."
Zayn held up his hands in defeat, and the rest of the boys quieted down. "Good. Now, who wants to play Donkey Kong?" I said, and smiled as the boys cheered and got everything ready. I could tell that I was going to love it here.