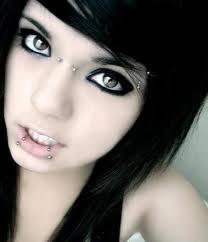 Finding the Unknown
Avalon slowly walked to her newly furnished prison or at least her school of new knowledge and torment. She feared the next four years, but beyond that she welcomed it and even more she reached for it. Anyways, Avalon wasn't a simple girl, she was full of death and the memories she shouldn't have. She was dressed in a creamy black, a fitted frame shirt that said, "Life Really Does Suck", and her skirt was pimped out with all the odd badges that she collected from the earlier year. Her hair was straight night black with only one white bow, and her lips now glazed with a dark new color. The shade of black was her description, although the only other color she wore was white, the color of everlasting mysteries. Avalon plugged in her iPod and continued on to the prison for her next four dreadful years.
She hurried through the bodied filled building searching for her classes that which she was doomed to take. Avalon rolled her eyes at a fully pink preppy cheerleader that was nothing but a fake. This pink cheerleader was the queen bee and she loved to pick on her opposites, including Avalon. Although, Avalon wasn't going to let her torment her anymore this year, she left the room to find her English class. She waltzed in just as the bell rang and whisked to her desk. Avalon ignored the whole day; she could barely see past the blinding lights or even hear past the screaming idiotic students who roomed the hallway. When the final bell rang at the end of the day, Avalon got up and immediately left.
Avalon's mother, Molly Joe, was sitting impatiently at home waiting to find out how her only daughter's day went. Molly gave Avalon a cheerful smile when she walked through the front door. She was about to get up and ask her how her day went but decided other wise. Her daughter had been through to much, and was about to go through even more. Molly fixed dinner earlier than usual so Avalon go to bed on time. Avalon was extremely not hungry so she picked at her dinner and then altogether shoved it away from her. Avalon left the table, said goodnight, and left. Molly was extremely worried that something unplanned was happening. She worried if it wasn't too late to tell Avalon what she was. What she truly was.
Avalon reached her bedroom full of stuffed monsters and fake fangs. Her room was always like a Halloween party but then again, it stayed like this all year long. She grabbed what was left of her summer diary and wrote about her first day at school, but after that she put her diary in the box, her box full of unforgettable mistakes. She got ready for bed and slowly shut her eyes to only realize she couldn't sleep. She decided to take a sleeping pill that which was stored for emergencies and used it. It didn't work; she had been waiting for over two hours. She finally decided to get ready for school.
She was all ready for school in about an hour or two. She leaped down the stairs and noticed her mother was up. It was thirty minutes after five o'clock in the morning! She couldn't believe it. Her mother was now drinking something that looked and smelled like blood. She gasped and then started to turn away to realize her mother was now behind her. She was confused and extremely curious on how her mother did it. Her mother only smiled and quickly went upstairs to retrieve something.
Molly came back with a bottle of that red stuff and handed it to Avalon. She told her daughter that she needed to drink it and love it. Her daughter only looked confused but nodded a 'yes'. Molly smiled and showed off her adult fangs, Avalon only had baby ones. Although Avalon's fangs were not long enough to even notice them at all, soon they would be growing painfully into adult fangs.
Avalon knew that her curiousness were truly at the high part in just that moment. Avalon was hidden away but not anymore.
Avalon smiled and her slowly glowing fangs glimmered in the awaking sun out on the horizon.