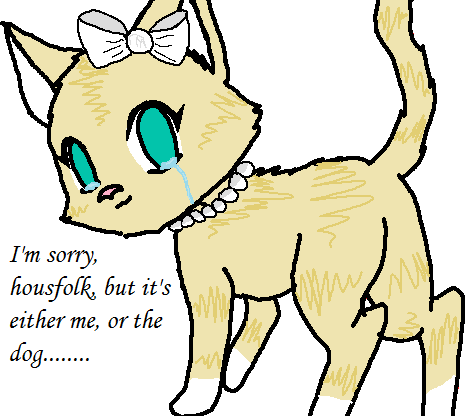 Cream
*Cream's P.O.V.* I jumped down from the fence and padded towards the forest. My ear was stinging from that stupid puppy. I stopped at the edge of the unknown. Looking back, I felt tears form in my eyes.
This was my home...I was raised here...The housefolk that lived here found me and saved me as a kitten...How can I leave?
I sighed. A strong force seemed to be trying to push me back, but I fought it. I continued walking into the forest. I looked back once more.
"I'm sorry, housefolk, but it's either me or the dog..."
*Windstorm's P.O.V.* I'm Windstorm. I am a black and white tom with amber eyes. I was going hunting with my new apprentice, Twitchpaw. She's a tortoiseshell cat with green eyes and uncontrollable twitches, hence her name.
She scented the air to find prey. It was her first time, and she looked about to explode with excitement. Suddenly, her expression changed to a confused look.
"What do you smell?" I questioned.
"An unfamiliar cat..." she replied, "and it's fresh..." I tried, and Twitchpaw was right! Even though it didn't smell like a clan cat, the scent was nice...I looked around and spotted a cream colored cat. It was a kittypet. She was really pretty though...STOP IT! She's an intruder! No matter what she looks like! She had a white bow and what looked like a white collar.
Twitchpaw stared at her in interest, and I confidently approached the kittypet.
"Who are you, and what business do you have on Blizzardclan territory?" I demanded. She jumped and yowled in surprise, then stammered an answer.
"I-I was just p-p-passing through! I didn't mean to I-intrude!"
"Run back to your housefolk, kittypet!" She glanced around nervously, then straightened up and stated proudly,
"I can't. I'm running away from home." I laughed at her response, then sighed.
"It'll be a shame to scratch up that pretty face..."
"W-what?" She asked, a hint of fear in her voice.
"If you don't leave," I unsheathed my claws and got ready to fight, "I'll have to teach you a lesson!" She bristled and unsheathed her claws. Wait, the kittypet had claws? She has claws! I inwardly laughed.
"I've fought dogs!" She hissed defiantly, "I'm sure I can take on you!" I detected movement in the corner of my eye and turned my head slightly. It was Twitchpaw...Oh yeah! I forgot she was there! Again, she looked about to explode with excitement.
"Can I take her on?" she asked. I thought about it for a moment.
"But, Twitchpaw, she's a lot older then you and you don't have any battle training."
"I still want to try!" I sighed. I guess I could let her start it off...I backed up, but was still ready to attack if she needed help.
Twitchpaw unsheathed her claws and pounced on the other she cat. The kittypet hissed and rolled over, knocking my apprentice off. They continued fighting. They both only used amateur moves and despite their ages, their skills in fighting were pretty much even. Then, eventually, the battle ended with Twitchpaw pinned to the ground and defeated.
"Y-you're not going to kill me, a-a-are you?" My apprentice stammered. The victor laughed.
"Why would I do that? I won the battle, that's enough for me!" She sheathed her claws and let the young apprentice get up. Interesting, I might want to take her to see Shadowstar...
"come with me." The kittypet looked surprised.
"weren't you going to drive me out?"
"Don't question it, just come with me." I began to walk back to camp. She followed me and Twitchpaw followed her. "What's your name?"
"I'm Cream."