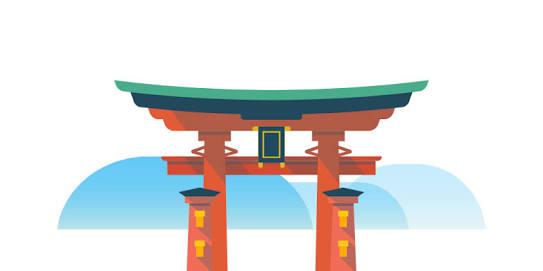 Japan
A Japanese school day lasts slightly longer than an American one.
There is no bus for elementary school students. Japan's culture wants their future children to grow big and healthy, so students are required to walk everyday starting from when they're six. Driving your kid to school is discouraged, but understandable for the families that live too far away or in bad neighborhoods.
Whether it's cities or mountains, Japanese kids of a variety of ages are walking to school at eight in the morning.
Green paths are spray painted along the road and they all highlight the route in suburban areas. The older kids and volunteering adults will watch over the younger kids like shepherds, mostly the elderly take the responsibility of keeping an eye on everyone. However, they do not follow these kids because Japan is more relaxed on chaperoning.
In a day, students have the core clases: Math, Science, History, Japanese grammar, English (starting from middle school), PE, handicrafts, and music.
Japanese art involves more crafts and paper cutting or cardboard. In other places, art simply means to paint on a canvas, and even though japanese students do that within a class, it is not the focus. Many of the pieces made by students are kept in the school and used as decorations for festivals, after the festival they can be taken home.
The students have field trips often because people believe experience and fresh air helps the brain grow. These field trips can be every week to twice a month- Some clases that work best when the learner is exploring like photography and cultural study have small field trips within the city block every day.
Soroban is a Japanese invention, which was adapted from an abacus. It used to be a part of the Japanese math curriculum, but it was removed slowly after calculators took over. Math skills dropped in the newer generation of Japanese and South Koreans had the title of "highest mathematical literacy" rate in the world. Soroban clases are creeping back. It stimulates the left and right side of the brain, and kids have to picture a soroban in their minds when doing math work. Using a soroban can increase your speed and allow you to multiply ten thousand digit numbers in your head.
Soroban has become a class unique to the island nation. In the class, a computer will run five 1000 digit numbers and the kids can solve the problem before the computer with their sorobans. Second graders can do this-- and I'm going to be honest, that makes me so jealous because I need scrap paper to do anything times thirteen.
The math is more advanced in japan, imagine doing 8th grade work when you're in 6th.
Japanese grammar focuses on learning kanji, which is taught throughout every grade.
The fine arts programs like music and art are done mostly for the sake of giving the country a "refined" look.
Lunch is an actual subject that gets taken seriously. First the students go to the bathroom to wash their hands, then head to the kitchen. The entire grade will help cook rice, mold onigiri, stir mixes into batter and so on. The teachers will guide the large group and older kids can take care of putting the trays into ovens.
The meal that the students make is eaten in the cafeteria or classroom, before eating the kids shout "itadakimasu." A literal translation is "I have been given this food." It doesn't make a lot of sense to say, but then again, saying "amen" before a meal or sleeping doesn't translate to Japanese people either. It's very polite to say.
The kids can talk at lunch, but the room is monitored well enough that no one has to scream or shout. After the meal, every student gets a mop, a broom, a bucket of soap, and starts cleaning their own trays, tables, and floors of the kitchen.
Surprisingly, people work in the cafeteria. Before it gets close to lunch those people are doing a lot of the things kids shouldn't touch like cooking raw eggs or meat.
Japanese schools do not higher janitors due to low budget, so the children are supposed to have times to clean up the school. After school and lunch are the two big times that everyone most focus on chores and scrubbing.
A Japanese school day isn't long, but 90% of the kid's have afterschool clubs, most common is baseball and tennis, which take until five o'clock.
All schools have uniforms, even kindergartens.
Homeschooling is almost a myth in japan, you have to explain what it means because no japanese person has ever heard of it. Ok, saying "literally no one" is a hyperbole, but it's not far from true. The concept of homeschooling is used for so little people and possibly only done in rural northern areas out of desperateness. The places where the highest population of people that know about homeschooling are Nagasaki, the most diverse prefecture in Japan, Sasebo, Atsugi, and Okinawa-- in other words land with high American populations.
Saturday school is always optional for the students, clases go as normal. The attendance of Saturday school is shockingly not too big of a drop-off from Monday-Friday.
Less homework is given out on week days than in American schools. You're homework in Japan is to finish a class assignment you might've missed, and in elementary you have a small set of problems, but you aren't given those past 5th grade.
Elementary and middle school is free, but you need to pay for highschool because Japan has low funding for education. The price isn't much, and if you don't go you will be a fisherman or farmer if that was your dad's job-- not going severely limits your future. Since you pay for high school, you'll be totally used to paying for college! College in Japan is actually so overpriced and many kids that want to go go to America anyway.
Earth quake and Tsunami drills are done instead of tornado drills.
The playgrounds in Japanese schools have grounds made of compact sand, unicycles are a common toy.
Typical classrooms have forty students. A small class would be thirty-five, a huge one would be fifty, and a class so tiny a Japanese teacher would be shocked is twenty-one. Aka the average size of an American class.
Calligraphy club is a unique activity provided by schools.
Calligraphy club spreads a giant white paper on the floor and students make a routine to fill the sheet with kanji and a poem or story. The club participates in an annual competition against other schools in which their calligraphy work and performance is judged.
Most clubs are based off sports, as said before baseball and tennis are the most popular. Soccer, swimming, and badminton would follow.
Note: I researched all of these facts for an essay for my Japanese Cultures class, I can send you guys my sources if you want to fact check. I've also had some personal experience in Japan : )
Hope you like it, I don't know why you chose to read it. What is the most shocking thing to you?
I wanted to die going to a Japanese elementary school, but in addition to not being used to no janitors and forty people I also barely understood the language. It drove me crazy, but I figured it out so it's cool.
I've lived in most Asian countries moving between them and Japan left a big impact on how I think. (Insert smiley face)