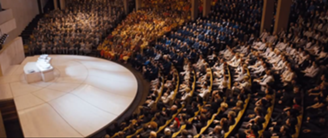 The Choosing Ceremony
I sat still and silent unlike the Dauntless that surrounded me. Poor Maxine was up on the stand now eyes gushing and hand bleeding. Her face contorted in misery as she let her blood fall onto the soft soil of Amity. The Dauntless roared with dissatisfaction but I had never seen Maxine smile so wide as she ran down and hugged three Amity girls. "Vera Saphire." called out the harsh voice of Marcus Eaton. Slowly I rose. I glanced at Keyon and smiled. He didn't smile back but instead took my hand and squeezed it. Carefully I made my way through the Dauntless and rose to the platform. Marcus handed me thhe blade with which to cut my hand with. I did so and stared at the bowl my mind reeled. My Aptitude Test claimed me to be thouroughly Dauntless but I had grown up there and knew what it was really like: cruel, blood-thirsty, and dumb. The bowl of hot coals sizzled beneath my precariously placed hand. My opinion was heretical but I could not get over the fact that to them bravery meant doing stupid and risky acts of "courage." To jump off a train you had to be fearless but fearless and courageous are different. My hand wavered as i drifted my thoughts to the next bowl; shards of glass to represent Candor. The candor jobs most interested me, but to have to tell everyone everything every day seemed excessive. Next was Erudite wit water. This seemed most likely for me given I was so smart and hated ignorance but what they were doing tio Abnegation was unethical and problematic. Amity was not an option for me, hippies and farming just weren't my style. Abnegation didn't seem great either; I loved helping people and all but I want a god life too. I looked at the Erudite, Candor, and Dauntless. These were my options; all had ups and down but none seemed great. I looked to Keyon again, closed my eyes, and squeezed. Three drops of velvety blood fell on the shards of glass. Candor clapped and Dauntless booed.
I thought to myself privately "As my first act of honesty, I declare I never liked the Dauntless." I smiled at my own wit and shook the hand of Jack Kang who was smiling warmly at me.
"Candor welcomes you and are glad we got you."
I was bout to say 'glad to be here' but I realized that wasn't the whole truth so I merely said "Thank you, I appreciate your openess."
Mr. Kang smiled wide at this and said "Is that why you chose Candor." I opened my mouth to respond but the voice of Marcus broke through our converstaion.
"Keyon Tumac."
"Keyon." I whispered and my eyes turned to him. He roughly fought through the Dauntless crowd and clambered up to the bowls. Quickly he sliced his hand and seemingly without thought he squeezed his blood unto the sizzling coals. It felt like someone who just shot me in the heart. I sort of fell back ont the chair that had been opened for me.
"What's wrong?" A chirpy voice said next to me.
"He was supposed to come with me." I breathed. Tears stung my eyes and my heart ached.
"Who is he?" The voice asked.
"My best friend." I choked on my own words. Reminding myself I was now part of the faction that valued honesty I corrected myself. "He's not my real best friend, he was so much more than that." My sore eyes turned to the holder of the voice. She was a blonde girl who was wearing grey clothes. "Are you from Abnegation?" I asked trying to get over of the betrayal of my best friend.
"Not any more, I left those losers behind!" She said defiantly, her dark eyes flashing. "I've been waiting to join Candor my entire life! I wish I had born into Candor, then I wouldn't to have wasted almost 17 years in Abnegation!"
"Why did you hate Abnegation so much?"
"I couldn't ever do anything. I couldn't speak my mind, I couldn't have opinions, my parents tried to make everything better but in Abnegation things can't get better for you cause otherwise your being selfish." She wore a face of disgust and I laughed.
"Why didn't you join Dauntless then? Why Candor?"
"I'm not exactly rough-and-tumble so Dauntless was a big no-no. I fell in love with Candor when I heard how open and honest everyone was. You didn't have to worry about what people thought of you because they just told you!" She whispered excitedly. "Why did you pick Candor?"
"Seemed like the only place I could actually fit in and I was trying to help Keyon."
"Was he that boy who broke your heart?"
I opened my mouth to retort but I remembered honesty was the key. "Yea, I guess. He just promised to follow me where ever I went because he thought I always made the best decisions. But that didn't happen, so you just gotta move on right? I'm Vera, you?"
"Callalilly Wade but most people call me Cal." She shook my hand and smiled smugly. "I thikn we'll be just fine."
"I hope so." Suddenly everyone moved and we were directed out of The Hub. As we passed through ourdoors, I saw Keyone. I caught his eyes and hissed "What's wrong with you? You promised!"
"I'm sorry, Vera!"
"Sorry doesn't cut it this time, pal!" I growled but I was forced to go over the threshold and away from Keyon. Forever.