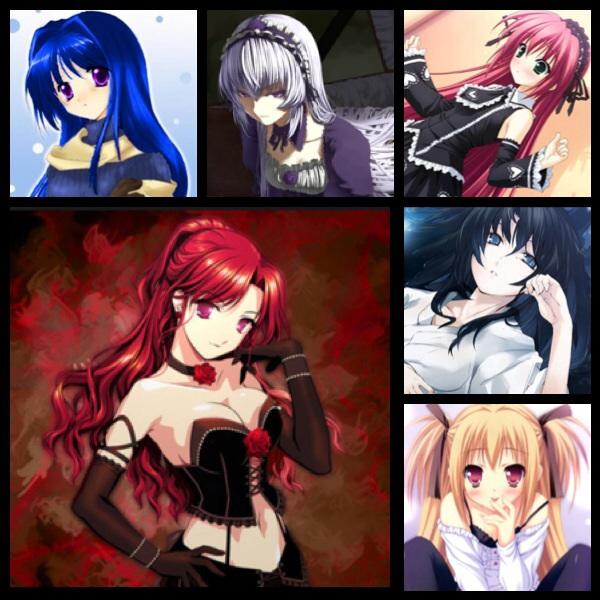 A New Challenge For Six Sisters
"Sabina! Sabina! Wake up! Wake up!" I heard a little girl say as she jumped up and down on top of my numb body. Opening my eyes slightly, I saw a blonde long haired, wide red eyed girl laying on top of me. Her pale skin shined off the moon's rays. Wearing a black t-shirt and blue jean pants, her blonde bangs were falling over her light red eyes.
"Luna, let me sleep a little longer." I asked, but Luna just keep jumping on me.
"No, Sabina! Krista told me to come get you up! She has information from father."
Opening my eyes wide, I glared and Luna and ordered, "Tell everyone to go to the living room now." Luna jumped off of my bed and ran out of my black room. Pulling the dark red covers off of my pale body, I got off the bed and walked to my closet. Pushing the black doors back, I slid my pajamas off and grabbed a spaghetti strapped black tank top, a black leather short sleeved jacket, a black pair of skinny jeans, white ankle high socks, and a pair of black high heeled boots. With my clothes, I shut the closet door and went over to the thin pillars placed on the corners of my bed. While I was putting on my clothes, thoughts ran through my head. 'What did that piece of shit want? Is he wanting a favor? Does he need me to kill someone?' Being the most powerful vampire alive was a curse and a blessing. Glancing at my brown dresser beside my bed, I saw a picture of all of my siblings and our father smiling and happy. At that time, we were a perfect family until he left us for politics. After putting my clothes on, I walked out the door. The click of my boots made echos as I walked down the hallway. We had nothing hanging on the walls, but maybe a picture of one of us. Walking into the living room, on the couch sat two girls. The white long haired, purple eyed girl with a purple corset dress was named Katrina, but we just call her Kat. Beside Kat, a pink long haired, green eyed girl wearing a short black corset dress was named Aurora. Standing in the corner stood a black long haired girl with blue eyes wearing a white low cut short dress that was tight on her small curves named Silvia. Luna was sitting in the red recliner with her long hair hanging down her shoulders. Standing beside Luna, Krista's long blue hair laid on her shoulders as her purple eyes glared at me. Krista was wearing a blue sweater dress that stopped at her knees.
"Finally Sabina took you long older sister." (Aurora)
"Takes time to look this good and fix the boobs you do not have." Everyone laughs at my witting remark except Aurora.
"Jokes aside. Sabina, father has issued us to be married.." Before Krista could of finish her sentence, I felt my eyes turning dark red, and my hand transform in a tight fist. "Let me finish, Sabina. We are to marry the Black family in nine months. There are six sons for us. Oh and they should be here any minute."
"They will what!" I yelled at my younger sister as I walked closer to her. "I have no intention on marrying anyone, and I will make sure he knows this." While I was yelling in rage and pacing around the room, Luna was staring at me with tears beginning to form. "I am sorry for yelling."
"None of us want to marry anyone." (Silvia)
"Why does father want us to marry these boys, Krista?" (Luna)
"Father said he wished to Sabina to get married, so he decided to get all of us married." (Krista)
"He is pathetic." (Kat)
"At least he does not live with us anymore! Parties whenever we want!" (Aurora)
"I agree with Aurora for once." (Me) As we continued to talk in the living room, a loud bang hit the fence. "Stay here!" I said running out of the living room and onto the yard. Our black steel fence had been broken down, and on the other side stood humans covered in camouflage holding machine guns and rifles. With the humans was a green tinted tank which must have broke down to fence.
"Tomas family, come out with your hands up. We know you are vampires. We will not kill you if you just come out in peace," announced one of the soldiers.
"Now I am going have to fix this fence. Time for you humans to know your place." I ordered running so fast the humans could not see me go beside the tank and pick it up. With all my strength, I lifted the tank over my head and throw it at the pile of humans. Blood flew through the air as the tank crunched the human bodies. I ran around another human and twisted his neck. Grabbing his lifeless human body, I hit soldiers over and over again with his body. When the last soldier was left, he tried to run away, but I was too fast and grab him. Opening my mouth, I pierced my fangs into his neck. The soldier's blood tasted bitter and afraid. Releasing my fangs away, I let his motionless body lay there.
"Now what happened here?" Aurora said. Turning around, I saw my sisters standing behind the broken fence.
Walking to the tank, I said," Everyone but Krista help me take the garbage to the shed, and we will burn the bodies later. Krista, call our piece of shit father and ask what the hell is going on!" Picking the tank up, I crushed it around until it was turned into a metal box. Turning around, my sisters had finished placing the bodies in the shed, and Luna stood near me.
Walking to the house, Luna asked, "Why were they here?"
"To kill us."
"Why would they do that?"
"Humans do not like what we are, but do not worry I will never let anyone hurt you or any of our sisters."
"You will never leave us. Will you sissy?"
"I am never going to leave y'all." Luna grew a wide smile on her face as we entered the house doors. Walking to the living room, Kat, Aurora, and Silvia were sitting on the long red couch. Luna ran to the red recliner and jumped on it.
"Well that was a wonderful way to start off our night." (Aurora)
"At least we had Sabina here!" (Luna)
"Sometimes it is good having a powerful older sister." (Kat)
"I could of taken them all out." (Aurora)
"I am sure you could of." (Me)
Talking with my sisters, Krista came in with her purple eyes widen. Staring at my sister's strange look, I said, "What did he say, Krista?"
Turning to me, Krista explained, "A vampire was captured and tested on. They know we exist and are looking for us. Father said he will delete any data and erase anyone's memory of the plan to attack us. Sabina, he wanted me to tell you to put on a pretty smile and act like a girl when the boys arrived."
"That idiot doesn't know me, but at least we will be safe for now."
"Could be worse. It could be a army of vampires." (Kat)
"But everything is going to be alright! Sabina will keep us safe!" (Luna)
"Stop saying Sabina will always protect us!" Aurora yelled. "Sabina will leave us like everyone else!" When Aurora said that, Luna looked up at me with her big red eyes forming tears.
Walking to Luna, I wrapped my arms around her. Her face laid on my shoulder as I felt my shoulder turn wet. Looking a Aurora, I glared at her with my bloodshot eyes."Aurora! That is enough! Look what you have done! Also, how could you say that? I have been with all of you since you were born! I promise I will never leave you!" I roared still glaring at Aurora.
"I'm I'm sorry." Aurora apologized.
While I cleaned the tears off of Luna's pale face, Silvia said, "Well that was a beautiful sister moment."
I smiled and continued to clean Luna up. As we were chatting, a knock came from the door. "I got it." I said walking out of the living room. Before leaving, I said, "Everyone put on your pretty smile or was that only directed towards me?"