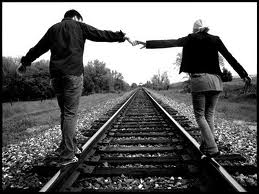 Best Friends
"So...have you said yes to Tyler yet?" Connor asked staring at his laptop screen. Ella looked up from her history project. His voice was trying to seem nonchalant but that crease in his brow betrayed him.
"No, why would I? He's an idiot and a bully."
"Oh." Connor smiled internally.
"Why?" she asked. He shrugged. She smiled teasingly.
"Have you said yes to Janet yet?" She laughed at his reaction.
"Heck no!!!! I think I'd rather kill myself than be her boyfriend...she's freaking scary. He shuddered, thinking of Janet's brash, loud nasal tone and massive fists she exercised regularly. She had taken a liking to Connor, latching onto him at any available time.
"She'd probably tear you to pieces..." she thought out loud.
Connor snorted.
"I'd never let her get that close..." he said smirking at her. Ella smiled back, looking at that familiar boy who'd pranked her on her first day and regretted it the next week. He'd tried to get on her good side after that...and they'd become partners in crime, pulling elaborate schemes together.
"What are you thinking?" he asked, looking strangely at her.
"When was the last time we pranked someone?" she asked. It wasn't that far from the truth.
He leant back on his chair, frowning. She smiled, noticing the furrowed eyebrows and the crinkled nose made him look like her dad when the milk was off. And the wiry, smooth arms tensed behind his head...when did Connor grow up?
"I'm not sure...was it when we set all the clocks two hours forward? Or was it the chicken in the library?"
"I can't remember...give me my diary, I'll check," she said. He stared at her.
"What? It's in my bag, front pocket," she said, pointing to it next to him.
He rummaged around for a bit before pulling it out curiously. He opened it and tried to read.
"No! Give me that back!" Ella rushed across the room and tried to snatch it.
Connor danced out of the way as she furiously attacked him in an attempt to retrieve her diary and ducked as she tried to smack him with her textbook.
"Don't you dare..."she threatened as Connor tried to open the book again, grinning at her aggression. She made a grab for it and he stepped back again, tripping over a chair leg and going down still holding the diary out of reach. Ella landed right on top of him and they wrestled on the hard wooden floor, trying to gain possession over the now very tattered diary.
"Give...me...it...back!" Ella ordered him while he laughed and rolled over, pinning her wriggling furiously under his weight. If someone walked in right now this would be an awkward situation, she thought. She tried to breathe but her lungs seemed unable to function.
"Right...." Connor flipped through the pages, scanning for the word "prank". She struggled all the more violently.
"That's private! Connor..." she protested in a warning voice, trying to free her arms or throw him off.
"Wait, ok here we are, 1st April. Oh yeah, it was the chicken in the library! Ha, I forgot about the carpet too..." he trailed off still reading, completely absorbed in his friend's thoughts written on paper.
"Right, now give it back!" Ella finally managed to shove him off and grabbed her diary, hugging it to her chest. She got up and started to walk to the door, a white hot look on her face.
Connor jumped up from the floor, eyes wide.
"Wait, Ella! I'm sorry I read your diary, I was just curious. But I read a bit more and it said that...you...loved me." His expression was unreadable.
Ella turned around, completely outraged. She advanced with a finger pointed at his chest indignantly, as he backed up against the wall.
"No, no no you are not going to make me melt and fall into your arms and swoon completely at your mercy, Connor Madders. I won't let you..." she stopped as he grabbed her hands. She looked into his eyes and tried to stay angry.
"Why the hell didn't you tell me?" he asked gently.
"Cos I didn't know if you liked me back. I didn't want to mess things up and make it awkward..." she said in a quiet voice. He smiled like he'd just pulled the prank of the century and got away with it.
"You really are an idiot, you know?"
"I'm an idiot??!? Right, you take that back -" Ella shut up as Connor placed his lips on hers, freezing in place before kissing him back. He was warm and strong, and surprisingly hesitant, growing more confident with her response. Connor entwined his fingers in her hair and breathed in her scent, fresh, clean and lemony like soap.
Finally, they broke away to laugh, and Ella smacked him lightly on the shoulder.
"What was that for!?" Connor punched her on the arm back, gently.
Ella raised an eyebrow.
"That's for reading my diary."