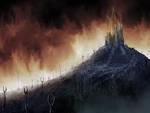 The Castle Burning
I watched the light dance in fiery spirals around the crackling stone. The flames glinted off the dagger but were squandered by the wet velvet lacing the shining blade. A smile melted into my face and I cast my eyes to the sky, "castrum et incendere; mors lenta sanguis libere currat, et mortuus est rex vivat regina." The curse reigned true and the fire before me raged into the sky illuminating the world around me like a seperate sun. I turned to the frail mare that whinnied at the sight. "Quus in fortitudine mea cor tuum, sed pavorem ad lapidem." As the words rumbled out of my grin, the horses shaling body grew larger and mane rgew thicker. Her eyes turned to white pearls, fogged by the spell I had cast upon her. In one motion, I swung over her muscular back and leaned to her ear "Ride, Saycura! Ride!" With iron hooves, she pounded into the foret plunging us into the heart of the country.
--------------------------------------------------------------------------------------------------------------------
Soon the darkness had lifted and I cast a cloaking spell on myself. I now had lost my long hair and this body to a short, wrinkly woman and Saycura looked as she had before the power spell had been placed upon her. I strode into the town without a second glance and the town square was easily found. My sensitive ears caught the distant trumpet. "The king is coming! The king is coming!" The town hushed and fell into disorderly lines. I stayed on my horse afraid to be crush in the mass below me.With rickety wheels, the king rumbled into the miiddle of town square.
"My people! What a fine morn to be meeting you today!" I looked to the grey sky and knew it reflected the people's feelings. "Some bad news has befallen us today. The mountain pass has been cut off by a band of robbers and Kingdom Clades is refusing to risk their people to trade with us." Suddenly, the silent square turned into an uproar of curses and angry voices. "Settle down! Settle down! As soon as the robbers are gone, we will re-open trade!"
"But, Sire!" someone called fromk the crowd.
"No! My descision is final! Good day!" He turned to get down but my arrow stopped him dead. Literally. A scream pirced the crowd and then a silence.
"Oh, please!" my voice was craggly and high but I continued, "My people" I spat, "Do not mourn for this theif! Do you mourn for the murderer of a child? Then do not mourn this man! Sure he has not killed anyone himself, but indirectly he has slaughtered you and you let him! A band of robbers? Psssh! What can they do to a village?"
"Well they're blocking the mountain pass. And what could you do? How did you help by killing our king?"
"Oh, he was not your king not in truth! And if he really was, wouldn't you be madder? He didn't care for you, or you for him! He was selfish!"
"How?" The shout rang out. Slowly i dismounted my horse and curled through the crowd to the platform where the king still lay dead.
"Look here, silk, silver, gold!" I held up his cape, "And you are wearing a goatskin. He couldn't even send one knight to take care of these robbers. Not one. You work days and nights and he drinks his weight in wine. AND his weight doubles everyday from your food." The people looked down at their feet in thought. "Besides, he is dead now. You need someone knew..."
"And who would that be? You?" the voice scoffed, "And who would you even be, hag."
"Hag?" dramatically, i wrenched my hood off and with it came of the cloaking spell. "I am no hag! I am Queen Avilla Antagna of the near kingdom Aborior, daughter of King Antoine and Queen Marie." My long white hair spilled out around me and my clothes changed to a silken black dress.