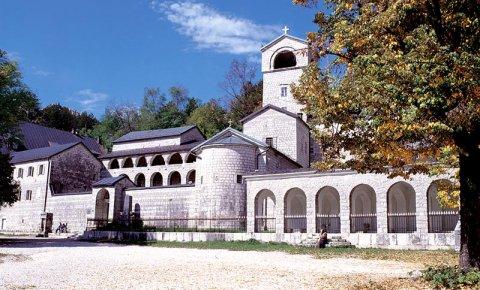 The Monastery
Pounding hard on my red hair, the rain drenched my clothes. As I walked down the cold concrete sidewalk, my shoes slushed through puddles. I glimpsed up through the rapid rain noticing the hurry of people. Children gripped tightly to their mother or father while they hurried out of the rain. Although people stayed together, I was still alone in the rain. My mother put me here to keep me safe from my father, but I feel like she just put me into a place worse than him. While I was lost in my thoughts, a hand was placed on my head. I gazed up to see a old man with gray hair, glasses, a black shirt and pants, and crosses dangling from his glasses and wrists.
"What are you doing out in this cold?" the old man asked shaking my head. The cold rain made my small body shake. Since the old man must have noticed, he hovered the umbrella over my head instead of his head.
Looking up at the man, I said," Thank you."
Smiling and reaching his hand out, he asked, " Want to come home with me? I can give you a home till your parents find you."
"Yeah, but I doubt they will come after me." I explained grabbing the man's hand.
As we walked down the sidewalk, he spoke, "So how about we talk about some stuff about each other. I'll start. My name is Bro. Mike Perry, and I am a preacher down here at Oak Grove Monastery. I am forty-four years olds. I have two twin sons named Marcus and Roman, and they are six years old. Now it is your turn."
Looking up at the old man, I saw a face I could trust. Finally, I said," Nice to meet you, Bro. Mike. My name is Michaela, and I am six! My mom told me to keep on walking until I was safe, and the only thing I remember about daddy is that he is very strong!" Bro. Mike smiled as I told him things about me. Soon, we made it to this house that had a few buildings attached to it.
"This is where I live." Bro. Mike said walking through the entrance. The entrance had a brick fence around, and the gate was a bar fence that opened in the middle. As I walked through the entrance, a sharp pain ran through my heart. I stood at the entrance looking at the home when two boys ran out of a door to their father. One had white hair and blue eyes with pale skin while the other had brown hair and green eyes with pale skin. Seeing them laughing, I ignored the pain and ran to the boys.
"Daddy, you are home!" yelled the boys. While I began to slow my speed towards Bro. Mike and the boys, Bro. Mike was talking to the boys. With excitement, the white haired boy glanced at me with a smile, but the brown haired boy looked at me with scared eyes and turned away. While Bro. Mike and the brown haired boy went inside, the white haired boy started jogging to me. Stopping in front of me, his blue eyes glimmered in delight. "Hi my name is Marcus! What is your name?" asked the hyper boy. I glanced up and down at the boy. His hair was a white with the dark blue eyes. Even though he was pale, his blue shirt and black pants made his skin darker.
"My name is Michaela!" I said. After telling my name, Marcus grabbed my hand, and together we ran to a door. Since no boy my age had held my hand, I began to blush. Being able to have a boy hold my hand was different for me, but with him it felt right. Returning to Earth, I asked," Where are we going?"
Finally, we made it inside the monastery. The door entered a dark hallway with paintings and figures hanging on the side. Most of the paintings show a bearded man standing in front of people. On the figures, a man was appeared to be hanging on a cross. Still holding my hand, Marcus walked with me down the hallway. While we were passing door after door in the hallway, Marcus spoke, " I am going to take you to my room. That is where you will be staying, but do not worry you can have my bed. I will get some blankets and sleep on the floor."
"You do not have to do that for me. I can sleep on the floor." I spoke while we stopped. Marcus knocked on the door, but no one answered. Twisting the doorknob, Marcus let go of my hand and walked into the room. Standing in the dark hallway, I silently waited for Marcus. My mind was wrapped around why this young boy was helping me as water dripped off me onto the floor. After what felt like thirty minute, Marcus slid out of the door. In his hand were what appeared to be a small shirt and some sweat pants.
Grabbing my hand, Marcus said," Come on! Let's go to my room, and you can get out of those wet clothes." Running down the hallways, we started running past men. Most of them were in black robes and pants. They all would look at me with a strange face like to them I was a monster who had entered their home by mistake. While I was lost in my thoughts, Marcus immediately stopped at a door. On the door was a sign that said, "KEEP OUT! Roman and Marcus' room." Pointing at the sign, I glanced at Marcus. Shaking his head, he said, "That sign is not for you!" After a quick laugh, he handed me the clothes and walked into the room by myself.
When I walked inside the room, in the corner of the square room was a bunk bed with dinosaur bed sets on the top bed and toy soldier bed sets on the bottom bed. Throwing the clothes Marcus gave me on the bottom bed, I walked over to the brown, wooden dresser by the window. On the dresser was a T-Rex and little, green toy soldiers on the top. I started walking back to the bed where my clothes were. I sled my sobbing wet shoes off and placed them by the dresser. Reacting for the bottom of my wet shirt, I took it off and laid it in the floor. Next, I unbuttoned my wet blue jean pants and pulled them off placing them on top of my wet shirt. After taking my clothes off, I grabbed the dry plain gray shirt and slid it on. Finally, I grabbed the fuzzy black sweat pants and slid them on. Before I told Marcus to come in, I glanced around again at the room. I noticed a doorknob and opened it. Inside was a rack of shirts and pants on the top and bottom with shoes on the bottom. Shutting the door, I walked to the window and glared at the stars. "Maybe this place will not be all that bad." I thought staring into the stars. As I looked down from the window, I saw a shadowy figure. The person appeared to be a tall man, but that is all I could tell. Suddenly, his eyes turned red, and his teeth appeared to have got sharper.
Then, I heard a evil voice in my head say, " Why don't you show them who you really are?"
In pain, my body began to hurt. My head felt like it was going to explode. Then, things began to get worse. Something began coming out of my back ripping through the layers of skin. My butt then began the same feeling as if a bullet was speeding through the lower layer of my skin and finally pushed out of me. While my ears felt like that were being transformed into something else, my eyes and teeth burned in pain until it stopped. Finally, I looked down at my burning skin to see red marks all over my arms. The marks look like a pattern of circles and wavy lines all connected together. The pain was finally over. When I looked through the window, I did not see the shadowy man, but I saw myself. Looking at myself, everything had changed. Dark red demon wings had sprouted out of my hand with a dark red, slim tail with a pointy end curled up beside the wings. My eyes were not yellow any more but dark red with my teeth becoming sharper. I grabbed my ear and moved my hand around it to feel it had transformed into a long elf like ear. I was a monster. Suddenly, it hit me why people were giving me strange looks. "Maybe they could see the mean thing I am." I thought holding my arms together. Slowly, I heard the door crack open.
Running to the bottom bed, I hid in the darkness curled up in the corner. "Michaela, are you done? Michaela?" Marcus asked opening the door. After coming in the room, he noticed my hiding spot. I felt his presentence becoming closer and closer. Finally, he climbed on the bed and said, "Michaela, why are you hiding?"
"Do not come any closer." I warned him. My tail was curled in the corner trying to hid all my now scary features.
"Why what is wrong?" Marcus asked crawling to the other side of the bed to turn the light on.
"No! Do not turn the light on." I tried to yell, but it was too late. The light shimmered down on me, and he saw all of the horror.
Staring at me, he only said, "Wow! This is so cool!" Shocked, I started at the strange boy. Quickly, he wrapped his arms around my neck. His tight grip made me feel safe even though I was the monster.
"No matter what you look like. You will still be pretty and my friend." Marcus said. Tears began to form around my eyes as he spoke. My first friend liked me for who I am.
"Thank you." I said hugging him tighter.
Letting go of me, Marcus began to joke around, "Now what do I call you! It has got to be something cool! Um how about Wonder Bat or Elf Bat Girl." I laughed so hard tears began running down my face.
"How about I just be me?" I asked. Marcus looked at me funny then yawned.
"Ok. You can be you. Now let's go to sleep before the old man gets back." Marcus said jumping off the bed and running to the closet. I glanced over seeing he was pulling the clothes back to grab layers of blankets and a pillow. First, he laid a thin blanket down. Then, he began to place thin sheets down before putting the pillow down. Putting the pillow behind his head, he jumped on the pallet. A giant bang exploded from where he was. Marcus began rolling in pain. I rolled on my back and began laughing. Suddenly, the door opened. Quickly, I pulled the covers back and hid under them. Roman walked through the room staring at his twin brother.
"You are supposed to be in bed instead of embarrassing us in front of Michaela." Roman said
Glaring at Roman, Marcus said, "Stop being so up tight, Fuddy Duddy. We were just having fun." I began to giggle after Marcus said that. Then, I stuck my head out of the covers to see Roman. Roman was wearing a dinosaur one piece making his skin look dark. Climbing up the stairs, I heard all the creeks coming from the bunk bed. Marcus got up from the pallet and turned the light off. Before Marcus went to lay down, he walked beside the bed were I was laying. Bending down, Marcus' face was in front of mine. He kissed me on the forehead and said," Goodnight. Sweet dreams." Slowly, Marcus laid down on his pallet and began to fall asleep. The kiss may not have lasted a second, but I could feel the heat of me blushing so bad coming from my cheeks.
After what felt like ten minutes, I started to hear noises. They were saying," Come home. Come home. You do not belong there. You do not belong there." Saying the same thing over and over was giving me a headache, but the voice were right. Even though I felt at home, I was not like these people. I was a monster, and I knew it. Slowly, I pulled the covers off of me and made my way to the window. Softly, I stepped over Marcus' legs trying not to wake him up. I could not leave Marcus without a apology. Opening the dresser, I silently searcher through the dresser to find a dinosaur notebook with a pen hooked to it.
I opened the notebook to the first blank page and grabbing the pen I wrote, "I am sorry, Marcus. Thank all of you for giving me a place to stay, but I do not belong here. Hopefully, we will see each other again! Marcus, keep thinking of names for me! Maybe you can find a good one! Goodbye, my friend." Placing the notebook on the floor, I made my way to the window. Unlatching the window, I felt the my chest ache knowing I was leaving Marcus. Pulling the window up, I stood on the window seal and jumped off into the night sky.
The rain had stopped a couple of hours ago to make it good for me to fly. Extending my wings, I began flapping them up and down. My wings pushed my body higher in the sky, and I began to soar through the sky. The cold wind hid me in the face blowing my red hair with the wind, but the wind made me feel alive. As I looked down, I noticed I was flying over the park. The park was covered with green lustrous trees, but there was a opening in the middle of the trees. In the middle of the circle of trees stood a shadowy man.
"Maybe it is him." I thought flapping my winds looking down. Wanting to find out what he did to me, I flew down quickly. When I almost got down to where he was, I pushed my body straight up to land on my feet. While my wings slowly flapped to let me down, and the grass flew away, the shadowy figure stood there. My feet touched the ground, and I stood in front of the shadowy figure. His body was covered in black with the only color showing with his dark red eyes. Looking at his eyes, they felt like darkness was going to grab my body into a total about out dark. Finally, I said, " What did you do to me?''
The strange man smiled bright showing his sharp teeth that looked like mine. "I showed the real you. Those humans would have destroyed you once they saw this. There are people where you are from just like you. I can even show you your father only if you go with me," spoke the man. His voice was dark and evil, but he caught my attention when he spoke about my father. If there were more people or things like me, I wanted to find out.
"Ok. I will go with you." I said looking up at the man. After I said that, his eyes began growing brighter. Looking into his eyes, I felt a hot flaming embrace surrounding me. Then, I began to grow dizzy, and my body turned limb. I felt the world going black with my eyes growing heavy.
Finally, I passed out in front of the man. The finally words I heard was the man saying, " Finally, the red flame is returning home."