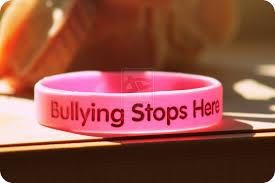 No one!
No one! You'd think I'd have friends and I do! But at lunch I eat alone. Even at recess i'm either playing a tag game-but even if all my enemies played I still would-or chatting with a group of friends. but it's NEVER about me! It's always about how the "leader" Gretel would DIE if her crush talked to her. I'm a loner, and when I'm not with my twin, playing a game or talking... I'm all alone.
How can my friends let me watch everyone ELSE have fun? They don't even look at me, and if they do they'l just ignore me. I don't have many friends, and were are my best friends? At middle school. I'll be there next year but I'll only be with one of them for a year before she goes off to high school. I hope that in middle school i'll have more friends and maybe another best friend.But I'll admit, I'm a bully to boys, a boy bully you could say. I'm really just mean to my enemies (which surprisingly is a lot). So here I am with a pink BULLYING STOPS HERE bracelet on.
You know how I told you about Gretel the leader of the crushes group? Well at recess today she pulled me outside and is now BEGGING me to write a story about her. She looked me in the eye and said, "Petra, you know my life's more interesting than yours!" Mika, someone else in the group piped up, "No offence Petra, but she's right." Every one else agreed. As you might of taken out of that, my name's Petra, Petra Pan. And being called Peter Pan (my favourite book) is an old joke, laugh all you want! So Gretel now is pretending to fart while the others screen "EWW!!" Why I'm friends with them, I just don't know.
The tag game isn't happening now, it's a variation of tag called "the hunger games" but it's nothing like the books. Now Gretel's saying "Hey, why'd you write THAT about me? You bum! Oops! Please don't wright that!" And she's trying to get me to write about someone else. I thought she wanted me to write about her. I try to get them to go away but she keeps on coming back! Who says my life ain't interesting? In fact I wrote a short variation of the time I was sent to the principal (it is also on qfeast). I call it C- girl. I call it that since she always gets C-s in everything except math. In math she gets an A. Actually, thats a big difference between C- girl and me, I only get Bs and As!
Did I tell you that Gretel NEVER stays away? I mean, I like that she wants to read this but those stupid comments she makes!! Ugh! The last one she said was, "Ya why are we friends Petra?" And as I told you before, I just don't know.