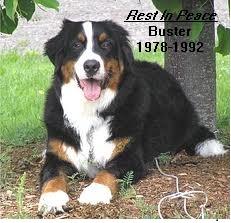 Reincarnated
As children, we all loved Buster the Bernese Mountain Dog, he was big and cuddly, everyone approved of him except from dad.
"Get out of the laundry basket you good for nothing mutt!" he would shout occasionally, "Don't bother feeding him that beef, he'll only empty the garbage can after it!" he would also exclaim. Yeah, my dad really hated that dog no matter what he did; even if he was just sleeping my dad would kick his behind and make Buster find somewhere else to sleep, the poor dog would go to hell and back non stop.
One day, me, my dad, my mom and my 7 sisters went camping in this beautiful remote forest in Canada; it had waterfalls and green grass that refreshed your mind completely. Anyway, my dad didn't want Buster to come but he didn't want him wrecking the house either and he couldn't be bothered paying a Boarding kennel so ended up coming with us.
At one point during dinner, I needed to go to the toilet, so me and my dad went to the edge of the cliff, and like any loving dog would do, Buster followed us there. My dad just hated Buster's cute "I'll do anything for you" face for some reason and decided that he could take Buster no more. "Arrrrrrooooooooooooooooo!!!!!!" was all I heard for about 15 seconds then I kind of picked up a small thud sound. He didn't have to kill him, he was just a dog. I was scared to look at my dad, I didn't want to be thrown off the cliff, but thankfully my dad just gave me weary look, grabbed my hand and led me back to the tent. Of course everyone was wondering what had happened to Buster, my dad told them that he ran straight off the cliff. My mother, who had a slight bit of suspicion decided to ask me, "Yeah, he did mom, I can't believe it." I managed to say a few words without crying.
Now I'm 29 , it's been 25 years since Buster died. As for my dad, he got lonely after mom died, so he decided to get a cat, but this cat hisses at him all the time, claws him, does anything to hurt him, and somehow managed to take his eye out. But, if the cat doesn't like him, then the cat doesn't like him, as simple as that.