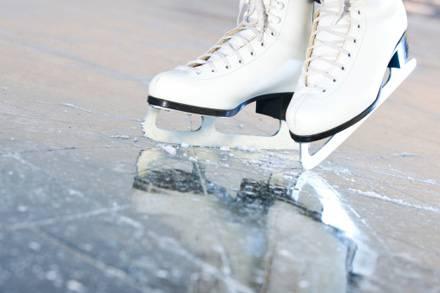 Cocoa goes Skating
"Ugh," I grumbled as she trudged through the two foot snow that covered the ground, "Meg just had to wreck the sled." I looked down at the snow and then the top of my head noticed a branch. I yelped and clutched the back of my head.
The lake was frozen solid and only twenty or so feet away. There weren't any visible skaters there. I pulled myself onto the top of the snow and pulled on my skates. Once they were tight I started to the ice, and fell down. There was a sound of metal slicing across ice and I looked up to see a girl sliding by. She noticed me and turned around.
"Need a hand?" the girl asked. "Er- yes, please." I said. "Don't mention it." the girl said as she pulled me up. Now that I was standing I noticed that she was a lot shorter than me. The girl had dark brown hair, tan skin, eyes like melted chocolate, and was wearing a triceratops beanie and pyramid sweater with ice skating shoes like cowboy boots. "Who are you?" I asked. "I'm Cocoa." came the reply, "And you?" "Lily Albert." I said, extending my hand. Cocoa took it for a high-five, but missed.
"Hey," I commented, "I haven't seen you before around Honeydew. Are you new?" "Yup." A white rabbit with tiny black dots on his back slid over. He was wearing tiny ice skates identical to Cocoa's. "This," Cocoa said, pointing to the rabbit, "is Creampuff." She seemed amused at my shock at seeing an ice skating rabbit. "I'm trying to teach him to skate, but he prefers sliding on his tummy." Creampuff squeaked.
I attempted to move over to him on my feet, but it was my stomach that succeeded. I flopped my way over and started to stroke him. "I agree, Creampuff is a good role model." Cocoa stated. I realized she was referring to my method of transportation. "Very funny." I said. Cocoa laughed.
"Want to come over to my place tonight for dinner?" Cocoa asked expectantly. "I'll ask my parents. Bye!" I stroked Creampuff one more time and crawled back toward land. I heard Cocoa call out "My number is 555-817-9112!"