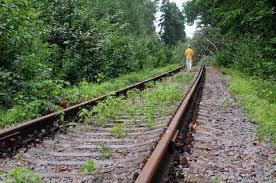 Wandering
I ambled along the country lane, feeling the soft grass give way under my feet. The trees sighed in the wind, whispering to one another. I should have been happy, walking along freely at my own pace, going wherever I wanted. It was an almost perfect day. The sun filtered through the leaves, creating pretty dappled patterns on the floor like green lace. But it was too quiet. No birds dared to sing. No snatches of cheerful song caught my ear. Even the trees had stopped moving all of a sudden. I looked up at the sky, hoping to see a glimpse of life. But the painfully bright blue sky was empty. A rhythmic chugging started far off in the distance.
I whipped round, only to see green behind me. I stopped. I had read the sign three times to make sure before I set off down the track. It had definitely said: ABANDONED IN 1932. The chugging got louder, as if just around the corner. A mournful note cut through the silence, like an old steam train whistle. Maybe it was one of those tourist ones they use for showing people around the countryside?
My foot stumbled on a hidden piece of track. It was warped and bent out of shape. It was warped and bent out of shape, along with the rest of the line from that point on. If the train came now, it would go off the rails and crash.