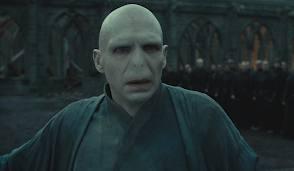 The Last of the Kibble
"VOLDY!" Nagini hissed very loudly.
"What is it?" Voldy asked. He was in a bad mood because his robes were smelly, but he was too lazy to clean them.
"There..Isn't.. Any.. More... KIBBLE!" Nagini snapped at the air near his arm.
"So?"Voldy asked.
"I'm hungry." said Nagini.
"Well too bad." Voldy turned away.
"Get a job, you bum." Nagini snapped, then glided away muttering.
Voldy rolled his eyes and sat for a moment, then got up and looked in his Big Book O' Jobs.
"Hmm..." Voldy flipped through the pages. "Lawyer.. Doctor... Elephant... Banana.. Potato Chip... Sewage Worker.... Burger Wizard needs Workers.. Ooo, Burger Wizard." Voldy smiled. He loved going to Burger Wizard. So maybe he should work there!