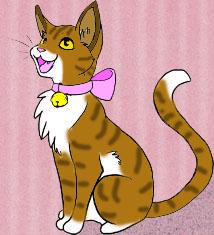 A Soft Life
Ziggy snuggled into her soft bed, it was pink and full of toys. "Your going to keep sleeping? Your a kitten!" Buttercup a brown She-cat smiled. "But I've been playing all day! And it's almost dusk, our owner well feed us soon!" Ziggy sprang out of bed, she couldn't wait to eat her wet food. "That's more like it!" laughed Buttercup. Ziggy ignored the older cat.
"Ziggy, Ziggy!" Ziggy's owner was calling for her, she sprinted to the kitchen. "MMMM!" Ziggy ate the food in fast gulps, "yummy". Her owner walked away, clomping upstairs. Ziggy pricked her ears, no more of her owner could be heard. She ate the last of the wet food, and licked her chest.
The cat council was tonight, she wanted to look her best, well not really. "Ziggy! Time to go" Buttercup called to the kitten. "Coming!" she meowed, and rushed to the cat door.
Slipping through the cat door, Ziggy looked at Buttercup in the dark. "Well let's go" Buttercup meowed and walked towards the graveyard. Ziggy looked both ways before crossing the street. Then she hurried across, and stopped at the graveyard gate. "Ooo! I can't wait, tonight is hunting awards!" Ziggy bounced up and down, Buttercup nodded in agreement. Together the two cats slid through the gate's bars, making sure not to let their fur catch hold of a bar point.
"Welcome to the cat council, today we do hunting awards!" Grave meowed as he stepped up on to the Meeting rock, Grave was the leader of cat councils. Ziggy bounced up and down, she couldn't wait to see who would win. "Hugo, your up" Grave looked down at a dark gray tom. Hugo nodded, and stepped up to the forest behind the graveyard. "Competing against him will be, Flare". A red she-cat nodded and stood beside Hugo. "Ready, set, GO!" Grave shouted, the two cats raced into the forest.
Ziggy paced back and forth, disturbing the crowd's space. "STOP PACING!" a cat yowled, Ziggy sighed and sat down. "Don't feel bad, everyone is excited" Buttercup nuzzled the kitten.
Every since Ziggy had came to Buttercup's house hold, she had became her adopted Mother. Ziggy looked up to her, looked for advice from her, and looked for confront from her. Buttercup loved being a sub mom, it was a honor.
"HELP! HELP!" Hugo and Flare ran out of the forest, yowling. "Help, Help" a mocking meow came from the forest. A tiger stepped out, "I'm Striker, your cats are disturbing the wilds". "The wilds who?" Grave asked. "THE WILDS! OWNERS OF THIS FOREST!" Striker growled, and curled his claws into the dirt.
"Look at those long claws!" some cat gasped. "Look at that tiger!" another cat gasped in horror. "We're sorry" Grave meowed, and turned away, shivering with fear.
"HEY! YOU CAN'T JUST BURST IN HERE!" Ziggy growled at the tiger, and padded up to him. "Oh really? I just did, silly pet" Striker sneered. "You will not talk back to me, little whiny kitten!" Ziggy snarled. "You are different, but we need the forest for food. Food that we actually eat, not catch for fun! You have food from your owners, just remember this" Striker growled, "that we don't live the soft life you do".
With that Striker ran into the forest, and disappeared from sight.