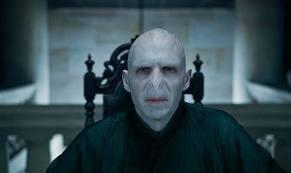 Voldy Plans
"OMG!" exclaimed Voldemort. "I didn't realize my birthday was in a week!"
"Oh, be quiet." muttered Nagini. "I'm trying to squeeze this chair."
"It's a chair, Nagini." said Voldy.
"Oh, you spoil all the fun." Nagini glided into another room.
"Alrighty then." Voldemort sat down at his Plotting Desk to make a wish list and decide who to invite.
"Let's see.... Severus Snape....Bellatrix....Igor Karkaroff.." Voldemort set to writing out a list of people to invite. "Hmm. Fenrir? Well.." Voldy thought for a moment. "Yes, I suppose he can come too. What about Lucius?" Voldy frowned. "As long as he doesn't brag about his hair or his pinky toe, yes he can come as well."
"Stop talking to yourself." Nagini yelled.
Voldy sat back in his chair to look over the list. "Oh, and Peter and Yaxley and Barty. Mm-hmm. That's it." Then he wrote them each an invitation and got it ready to put in the mail.
Now came his present wish list.
1. Harry Potter (alive, he could be the confetti)
2. A mustache
3. A toilet plunger
4. Dumbledore (he could be some of the games)
5. Pickles
6. The Elder Wand
7. New robes
8. Some skin lotion
9. Another humungo snake
"Alright." Voldy decided. "That's it." So then he made multiple copies and sent them with the invitations.
"Now to prepare the games!" Voldy got to his feet.