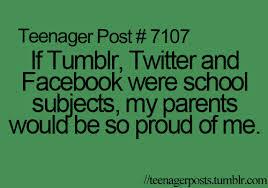 teen posts. rate a #5 for more!
#1 my parents call it talking back, we call it explaining
#2 that mini heart attack when you reach in your pocket and your phone isn't there
#3 only in math problems it's normal to go to the store and buy 90 watermelons
#4 lying in bed wondering if it's worth to get up and pee
#5 ME: "mom! mom! quick look!" MOM: "that's very nice sweetie." ME: "wow that's cool how you actually saw that without looking."
#6 *missed call* *calls back* *no answer* what did you die in the last five seconds?
#7 "clean up your room. family is coming over." ME: I didn't realize the gathering is going to held in my room
#8 that crazy 5 seconds when you stand up to fast and you either go blind or you go dizzy
#9 SON OF A B......iiissscccuuiiittt, hey mom.
#10 talking on the phone and making a tour of the house
that's all for now.. I DIDN'T MAKE THESE!! these are by teenager post. I hope you liked them. I love teenager post too and I thought I would share how awesome they are with you. rate 5 if you want more. bye :)