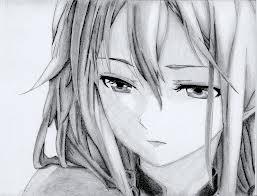 The Graveyard
The picture is of Cassidy.
The first thing I heard in the morning was Dad's voice calling, "Wake up Cassidy!" I opened my eye a tiny fraction and muttered, "What? Dad?" I glanced at the clock. It was seven in the morning. Not so early for me but, ever since Mom died, Dad's been sleeping very late. Most days he comes to the kitchen at one in the afternoon. However, I suspect from the sobs that come from his bedroom that he spends most of the day and night crying.
But that day, Dad was fully dressed in a suit and tie, a rare occasion these days. "Wha..." The word hung in my mouth.
Before I could finish my sentence, Dad said, "Today is the Day of the Dead." answering my unfinished question. "It's November second," he continued. "We're going to the graveyard."
"But," I sputtered. That's when I noticed the flowers in Dad's hands. Falling silent, I thought, He's talking about Mom! Then the tears came, flowing like a waterfall, racing down a mountain that was my face. The next moment, Dad was sitting on the bed next to me and our tears flowed freely. I buried my face in the crook of his arm, and he didn't seem to care that I'd ruined his best suit. My voice muffled in his arm, and I said, "OK."
"OK, what?" Dad asked, genuinely confused.
"OK, I'll go to the graveyard with you." I answered.
Fifteen minutes later, we were dressed and climbing into the car. Dad had changed into a soft purple button down shirt.
"This was your mom's favorite shirt." Dad reflected with a strained smile. Even such a small detail sent a lone tear rolling down my cheek. I know: I cried a lot those days.
As we drove to the cemetery I became lost in the jumbled world of my thoughts. The next moment, I flashbacked to the day of the funeral again. I couldn't remember much about the ceremony itself. Mostly just pats on the back and conversations with people I'd never seen in my life.
Then the minister made his speech. He told of my mother's greatness but barely touched on her personality. I could see boredom and impatience in his eyes.
But I remember vividly what happened AFTER the funeral. As soon as we opened the front door, Dad went all out. He banged his head on the wall, yelling. Then, I remember dad streaking past me to slam the master room door closed, and locked, leaving me alone, afraid, and sad. I recall myself running, running as fast as I could to my bedroom, and then under the bed. And that was when the tears came. At the funeral, I was angry, so angry at the minister, but now there wasn't a minister to be angry at. All that was left was sadness.
We arrived at the cemetery and Dad parked the car. The parking lot was full to the burst with grieving people coming to honor their loved ones. Many carried flowers and tears were all around. Gripping each others hands for support, Dad and I walked to the graveyard. Immediately, I noticed my mother's headstone. Tensely, we walked towards the tombstone as if it held a horrible monster. But the only monster was our sadness.
The headstone was plain white, just as my mom wanted it. On in were the words, Melissa Monroe 1967-2013 "Melissa was a kind, thoughtful woman who could light up anyone's day. A great wife, mother and friend, she will be sorely missed" I stared at the headstone. The words sorely missed seemed to be mocking me. I turned to my father, who was placing the flowers, so, so carefully next to the stone.
He turned to me and held me tight, as if I was going to leave him too. "Your mom would have wanted us to stay strong." he said flatly. In my head I thought, "If she hadn't died, we would know what she wanted us to do, and we wouldn't have to stay strong anyways."
Ten minutes later, we were back into the car. I knew that the trip was supposed to honor Mom and make us feel better, but I couldn't help noticing the dead look on dad's face as he started the car.