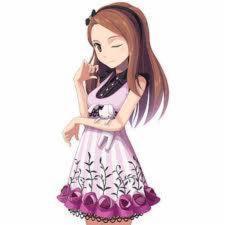 Chapter 1- Rosalyn's POV.
I woke up in a strange bed, strange world. "Oh, darling! You're awake!" A male voice cried. I weakly sat up to see a man with a pale face, wearing a fancy suit. "What's your name, dear? I suppose you don't want some tea?" He asked, contenuing to throw an endless amount of questions at me. "My names Rosalyn, and... I'm fine.. I think. May you tell me where I am- who are you?" I asked.
"Such manners! I'm the Mad Hatter, call me Mad, though." He awnsered as he took his hat off and bowed. "M- mad? Such a queer name. Also, as I asked earlier, where am I?" I asked again. His face flushed with anger, but he choked it down. "First, I find Rosalyn a queer name- don't tell the queen of hearts I had said that- and Welcome to wonderland!" He awnsered.
"Queen of hearts? Odd, it's like a card name!" I thought, getting up. I looked around again, obsorbing everything around me. "This rooms a mess! How do you get around here?" I asked, trying not to step on anything breakable. "Cleanliness in rooms are boring- it looks funner in a mess!" He awnsered. I realized how thirsty I was, looking at all the odd hats around. I picked a decorative, simple hat and looked at it. "No wonder your a hatter- you do well at making hats!" I stated, trying it on. It fitted perfectly.
"By the way, do you have any tea? I'm actually quite thirsty, thinking about it." I asked. "Plenty! Follow me!" Mad awnsered, leading me down a flight of stairs. I saw many more hats around, with a table in the room. A white rabbit and a huge table sat in the massacre of hats. The Rabbit in the blue waste coat was sound asleep, a cup of tea at his side. "Sit down, let me poor you a glass!" He cried, pulling a chair out. I was surprised he was able to push a chair out from so many hats- I could nearly drown if they were all on the floor.
I sat, watching him messily looked me a cup. He handed me it and I took a sip, foolishly burning my tongue. "Ow!" I cried, nearly spilling my tea. "What's wrong?" Mad asked after chugging his tea down. "I just burned my tongue a bit, that's all." I awnsered, taking another sip. I ended up drinking it all, not noticing horses coming closer nearby. "Rosaly, hide!" Mad hoarsely whispered at me. I had no question as I quietly put my tea down, hiding in a closet nearby.
"Mad Hatter!" A man shouted as I heard a door open. "Y- yes sir?" He asked, his voice shaking in fright. "You have an Alice here! Where is she!" The voice of the man replied. I stiffened, hearing metal boots walk around the house. "A-Alice? I don't know what your talking about!" He awnsered, his voice shaking with fear. I heard the shattering of glass and a sword be pulled out. I immediatley grabbed a scythe inside the closet and rushed out. "Let go of him!" I shouted, getting in a defencive position.
"Rosalyn! You weren't supposed to get out!" Mad shouted at me, trying to get free from the sword at his neck. "So you lied, Mad!?" The man with black hair shouted at me.
Before I knew it, Mad's head was rolling on the floor and soaked in blood, and I was in the grasp of the two men looking for me.