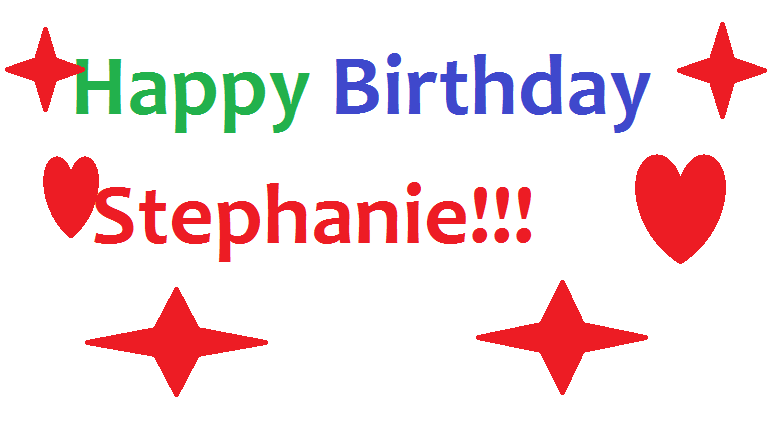 "Happy Birthday Stephanie"
I get there early. The lights are off.
Me: Hello, I am here early. This is the season one finale. Someone special has a birthday this week so here we go.
A door is heard closing. I hide under the desk. Stephanie comes in, she looks confused.
Steph: Why are the lights off?
Stephanie turns on the lights and eveyone comes out.
Everyone: SURPRIZE!!!
Stephanie smiles really big.
Me: Happy Birthday Stephanie.
Steph: Oh my gosh. Thank you so much!
Me: Your friends are here as well Steph. Evelyn, Glenisha, tyler, wil, and more.
Steph: This is wonderful, whose idea was this?
Evelyn: It was Ant's idea.
Steph walks over to me with a smile.
Steph: Thank you so much. You are such a good person to me.
Me: You are an amazing person.
We hug tight.
Me: Plus we have multiple past guests here for the party as well.
Steph: This is so wonderful... thank you.
Me: Time for the gifts.
Everyone lines up and they all give Stephanie gifts. Everything from jewelry, to games. to gift cards, to Tshirts. Then it is my turn to give her a gift.
Me: Here is my gift to you.
Steph unwraps it... She knows that it is...
Steph: Pinhead's box... Is this real?!
Me: (smiles) yes it is.
Stephanie opens it and Pinhead appears. She chases him around for a half hour before Pinhead escapes through a portal.
Steph: Ant... You are so amazing for all of this.
Me: Time for cake.
After everyone gets their cake. I stand up with a paper in my hand.
Me: If i could have your attention... I have a birthday poem for you Steph... it goes like this...
Stephanie it is your day,
It is your birthday.
You are so nice to me,
Nicer than anyone i see.
You are my queen,
Way cooler than Chalie Sheen.
You are my best friend,
And will be til the end.
I love you Stephanie,
You make me smile with glee.
One more thing to say,
Happy birthday.
Steph is crying and we hug... We sit back down as the party carries on.
Me: Well thats it for this season.
Steph: Lovely ending... Please rate and comment and stay tuned for season 2.
We celebrate as it ends