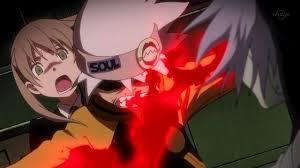 Dreams
It was dark. I squinted, trying to see if anything was visible. All I could see was a tiled floor and walls all around me. An empty room, great. I turned around at a slight sound behind my back. Soul was there, smiling and holding out his hand to me. I was so glad to see someone familiar in this dark prison. I ran towards him and gave him a big hug. He frowned and asked, "Are you okay, Maka?" I tilted my head and furrowed my brows, opening my mouth to reply. A shadow moved behind him and I went into a fighting stance. Soul turned into a scythe and I looked for it again.
Suddenly, a girl with short, dirty-blond hair and bright blue eyes walked out of the shadows in the room. Her left eye was covered by an eyepatch and she wore what seemed like a flowered, dark blue school uniform. She chuckled and waved her hand and created a sword covered with shadows. She lifted her arms above her head and struck so fast that I only had time to block. She raised her sword again and again and struck. I was exausted quickly and had no strength left to block as she brought her blade down one last time. I waited for it to hit me and I opened my eyes to see what happened. Soul was standing in front of me, blood rushing out of a huge gash on his chest. I screamed and caught him as he fell to the ground. I whipped my gaze at the girl and yelled,"WHO ARE YOU?!"
She giggled and replied,"You'll find out soon enough. Heed my words though, Maka Albarn. Inside of your meister soul dwells two other souls that will be your undoing. You will know me soon, dear. Goodbye!" She blended into the shadows behind her.
"COME BACK YOU COWARD!!!"
***End of Dream***
I sat up sweating and panting. That dream again. Soul dies and a mysterious girl appears. Only, this time, she actually answered me. Huh. I pulled on a pair of shorts and a t-shirt. I glanced at the alarm clock and sighed. It was only 4:00 in the morning. I remembered the dream and winced. Soul had protected me and died. I shivered and felt the need to check on him.
I silently padded out of my room at the end of the hallway and crossed the carpet to get to Soul's room. I silently pulled the door open and looked in his room. He was sprawled on the floor, with the blankets in a lump at the end of the bed. I shook my head and smiled at his position on the floor. I walked inside and close the door behind me. He sure was a heavy sleeper. I leaned down and picked him up, placing him back on the bed. After I pulled the covers over him, I smiled at the cute expression on his face. Turning around, I walked to the door and opened it. I started to go outside when I heard a moan from the bed. I froze and looked over my shoulder and saw Soul sitting up and rubbing his eyes.
"Maka?" Whoops. "What are you doing in my room? And why am I on the bed?"