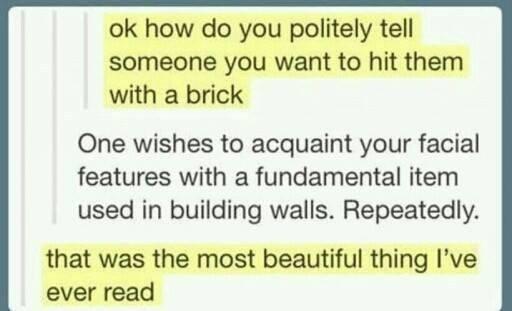 How do you politely tell someone TO GET OUT OF MY LIFE?
No worries, it's no one on Qfeast but someone needs TO NEVER TALK TO ME AGAIN. But I want to be nice about it but I need to get the point across THAT I NEVER WANT TO SEE THEM AGAIN. Sorry, I'm really mad at this person and he needs TO GET OUT -_- I need anger management classes. But I actually really do need help... Please?
▼Scroll down for more questions▼
Answers (
15

)

vote up or down the answers
Text them 370HSSV 0773H and tell them to read it upside down. Or just ask them to kindly extract their presence from all areas and crannies of your hopefully now happy existence.
on June 23, 2014
That annoying moment when you're trying to end the conversation but the person keeps on talking
on June 25, 2014
Hmm, same problem...tell them to: "Please leave me alone for awhile, I need to think and clear my mind," or just diss 'em like I did.
on June 25, 2014
Ooh, do you have a stalker? I've got the same problem.

Well, if they're doing something that's really annoying, just say, "Please, leave me alone. That's really annoying. I'm sorry, but it's true," then walk away. Would that work?
on June 23, 2014
on June 23, 2014
on March 18, 2017
Just calmly and nicely say, GET OUT OF MY LIFE! I HATE YOU AND NEVER COME BACK AND NEVER TALK TO ME EVER!!!
on August 28, 2014
Tell them to please not talk to you and just have no interaction really. If what they did was that bad, they need to go.
on July 29, 2014
you should say I am sorry but can you not call me or text me cuz well I want to end this relationship I am sorry I didn't mean to hurt your feelings but its complicated
on May 20, 2016
on May 19, 2016
"Get out of my life PLEASE? ... Or I'll shove you in a sack and drown you. Thank You."
on August 29, 2014
OMG, your talking about Ashley, the liar in my neighborhood who thinks she's so cool. She lies about everything, barges in and ruins everything. She even made the nicest person in the world (An 11-year-old across the street, my best friend's sister) say under her breath, "And why don't you walk on hell." The girl, yes, Ashley, who hates anybody calling her "Ash", and who, according to my mom, is "difficult."
Tell her very politely, "Hi. I feel like we've spent a lot of time
See More▼
together, and I haven't been spending enough time with my other friends. Can we take a small break? Maybe... A week? Maybe shorter." If she says, "I haven't been seeing you for a very long time," then say, "Well, I feel as if we are." If she says, "Y/N, your so mean!" Then say, you may think that, but I simply think it's unhealthy."

Also, you can ALWAYS say, "I don't feel like hanging out right now." If she says she won't be here later, (Like Ashley, the daughter of Satin, always does) then say, "Then I'll see you soon!" And then follow that quickly with a "Bye" before closing the door. She can't come in without your permission.

Don't tell her directly or ignore her. She's probably the type of person who starts rumors, and even if she's not, you don't want to seem mean.
on August 29, 2014
Completely ignore them and when they talk to u enquire on a 'strange buzzing'
on August 15, 2014
I don't know say that you would like them to stop bothering you I guess ( I am kinda straightforward )
on July 27, 2014