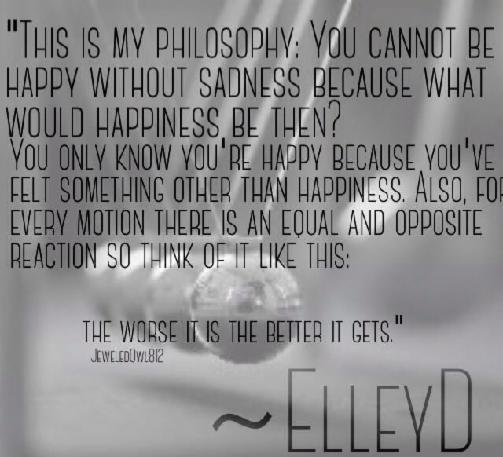 Have quotes like this?
Does anyone else have a quote like this they want to share? This is mine :3
▼Scroll down for more questions▼
Answers (
15

)

vote up or down the answers
"Stay strong wi-fi."

~ 100% of the people who are OBSESSED with the internet.
on August 03, 2014
"People don't cry because they're weak, they cry because they've been strong for too long."
-Mirajane Strauss
on July 06, 2015
Not really but I do have a cool quote but it isn't hundred percent accurate "if life were a painting then dreams would be like the paint painting your life" that's not really all of it but it is the gist of the quote
on August 01, 2014
My life's quote:

"Of all the toys in the world, people still choose feelings to play with."

I don't know who said it, but that quote pretty much sums up my whole life.
on August 01, 2014
When live gives you lemons, paint them orange and sell for twice the price - Gurnkle stan from gravity falls

Birds are fabulous -Liana Van Zen
on August 17, 2014
"Bow-Ties are cool." ~The 11th Doctor XD

Ok...anyways

"When I was a child, my favorite story was about a man who lived forever, but whose eyes were heavy from the weight of all he had seen. A man who feel from the stars." ~Dr. Who Quotes~
on August 11, 2014
'Real bands save fans, real fans save bands.' - Michael Clifford
on August 03, 2014
This was from a phone commercial XD. But it was good.

"The boldest life is out there."
on August 02, 2014
"Change is hard. You fight to hold on, and you fight to let go." -Unknown
on August 01, 2014
"It seems like one second we were just children in this big world, and the next we are scared and hurt and no longer naive." ~JeweledOwl812
on August 01, 2014
"If every pork chop were perfect, we wouldn't have hotdogs." ---Greg Universe (from Steven Universe)
And also:
"BECAUSE I'M A POTATO!" ---GLaDOS (Portal 2)
on April 21
"You will never be fast, as you can be smart." -Lightning McQueen
Seiriously describes me. I'm fast, but I'm smarter.
on February 02
Fire tests gold. Partly because of the awesomeness of the Iron sisters, but it's true.
on October 19, 2014
If you don't like your destiny change it
If something bad happens don't let it happen in vain
If you don't believe it is you it will never be true
You are you and you are yourself
on August 22, 2014
Half your sorrows and share your victory in a better world
on August 19, 2014