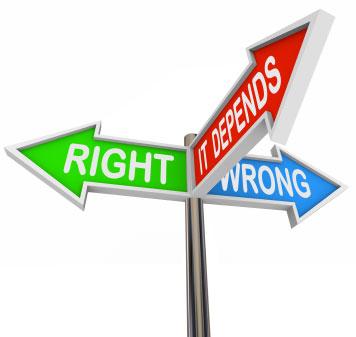 Who decides what morality is?
▼Scroll down for more questions▼
Answers (
5

)

vote up or down the answers
Society, religion, and our conscious determine morales.
My conscious says that since I don't want to be murdered, I shouldn't murder either, and our family and friends may further install that ideology in our heads.
Rebellion is when a morale seems to be overwritten by an exception, and when the brain has troubles placing pieces where others would put them due to certain occurrences, the mind will alter the morale to one it sees fit. Example: "So straight people can marry on
See More▼
tv... But two gay people can't even kiss on tv? What?! Why?! It's just love, but with two same-gendered people!"
on February 09, 2016
God. I mean.... Outside of that, there is no defined line of morality. It's just a bunch of humans deciding for themselves what is and isn't right.
on February 08, 2016
Over time people have come up with what they feelis right and what they feel is wrong,
a conscience.
People around the world have different senses "Morality"
Like some people believe eating meat is wrong, while others think it's only natural.
Different places have different laws and belifs that may make them think that
"this" is right or "this" is wrong.
So I guess diferent things affect morality (Feelings, Environment, Religion/Beliefs,,etc)
See More▼


So in short: I don't think ONE person alone has decided what morality is.
______
-To me morality is sort helping those in need.
on February 08, 2016