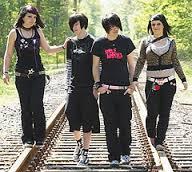 what do you think of emo and goth people?
▼Scroll down for more questions▼
Answers (
11

)

vote up or down the answers
on December 26, 2015
I don't mind them. I usually get along with them.
Btw: the only true difference between goth & Emo is the music tastes.
on December 26, 2015
on December 26, 2015
on December 27, 2015
I'm not one of them, probably never will be, but I have no problem with them. As long as they're good people and not douchebags, I'm cool with them.
on February 22
on February 21
I am a emo: and proud. They are miaunderstood, have no freinds, and your all wrong: they domt have any friends, there really shy, there broken, and cry alone all the time.
on March 02, 2016