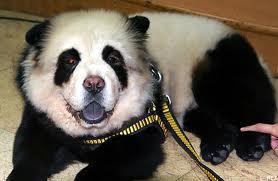 How many types of dogs are there in the world? (Mongrels and Pedigrees)
I really want to know, because I would like a unique type of dog to get when I'm older!
For example, the picture below looks like a panda, but it's actually a dog who likes like a panda (alot)!!!!!
▼Scroll down for more questions▼
Answers (
15

)

vote up or down the answers
Thanks Molly1!!! And Liffey, I just wanted to know if there are any other rare breeds, you don't need to tell me that!
on August 20, 2012
Some rare breeds are the:
Ah, our canine counterpart. Where would man be without the domestic dog? (Canis familiaris). I think we'd all be still scavenging off the land, with no form of government or civilization. But, that's a list for another day!
By selective breeding practices and geographic isolation, hundreds of dog breeds have been created to do man's bidding. Some breeds never came into vogue, others never had large population numbers, and more have had their livelihoods
See More▼
phased out, and are now considered rare.

10. Catalburun


This breed is a Turkish Pointer, and is readily identified by its "split-nose". This may be the result of severe inbreeding, or because the local hunters prized the fabled hunting prowess of split-nosed dogs over pointers with normal appearing noses. Either way, they are virtually unknown outside of Turkey, although they are prized in their homeland for their hunting abilities.

9. Mudi


This is a Hungarian Herding dog of superior herding quality! Their soft, curly coat
on December 06, 2012
About a estimated 400-500 and only about 150 are certified by the AKC
on December 06, 2012
panda dogs arent real breeds its actually a chow chow with died hair
on October 29, 2012
there is not 163 breeds in the world ok people
on October 29, 2012
maya84760, how can you not know what it means? I am just asking how many breeds of dog there are in the world
on September 07, 2012
keara its actually unknown because rare breeds are made all the time
on August 20, 2012
on August 20, 2012
on August 20, 2012
There are many species of dogs including hybrids. Here is a list:
Afador
Afaird
Affen Spaniel
Affen Terrier
Affen Tzu
Affengriffon
See More▼

Affenhuahua
Affenpinscher
Affenpoo
Affenwich
Afghan Collie
Afghan Hound
Afghan Retriever
Afghan Sheepdog
Afghan Spaniel
Afollie
African Wild Dog
Africanis
Aidi
Ainu Dog
Airedale Terrier
Airedoodle
Akbash Dog
Akita (American)
Akita Inu (Japanese)
Akita Shepherd
Alano Espanol
Alapaha Blue Blood Bulldog
Alaskan Husky
Alaskan Klee Kai
Alaskan Malamute
Alopekis
Alpine Dachsbracke
Alusky
Ambullneo Mastiff
American Allaunt (photo needed)
American Alsatian
American Bandogge Mastiff
American Black and Tan Coonhound (see Black and Tan Coonhound)
American Blue Gascon Hound
American Boston Bull Terrier
American Bull-Aussie
American Bull Dane
American Bull Dogue de Bordeaux
American Bull Mastiff
American Bull Molosser
American Bullador
American Bulldog
American Bullnese
American Bullnese Hybrid
American Bullweiler
American Bully
American Cocke
on August 20, 2012