mrpuppy2003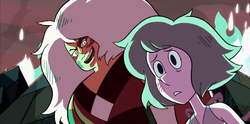 story
"Lapis..." Lapis Lazuli was always a Gem who was trapped beneath her own decisions. Should I join HomeWorld or Rose Quartz? Should I join Steven or sit here in my cold, hard prison cell? This story is a tribute to one of this s...
59 reads
29 readers
2
by Lapis_Lazuli
16 days ago
Lapis Lapis over and over!
16 days ago
16 days ago
This is so me. I'm surprised how accurate this quiz is?!
16 days ago
personality
quiz
This will determine if you are any of the gems, including fusions. Answer honestly for best results.
48 responses
5
by mrpuppy2003
16 days ago
Okay, these quiz results are rising to new levels of repetitive.
21 days ago
Guess Lapis is a recurring theme!
21 days ago
21 days ago
Looks like I'd stay a while
21 days ago
Look what personality I've got! What about you?
21 days ago