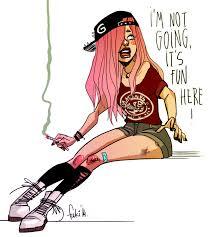 home is better than society
OH HELL NAH I hate getting up to go to school.. I'm in university but today i'm going to the office and telling them i wont be going anymore .
the reason why i even went to university was because my stupid bitchy ex boyfriend. Turns out the son of a bitch was cheating on me with my bully. I literally cant stand that whore. in 3rd grade she said i was ugly and that i had ugly blonde hair (why i dyed my hair pink).
Well whatever today i'm leaving the university and start to enjoy my life and get a job. I talked to the principle and now i'm not a student. As i was walking out i saw my ex. He looked at me and said good-bye, but then that bitch martha (my bully) came kissed him and said i see you're talking to an animal. In response i said yeah Jake why are you talking to martha, you know i may be an animal but im not the one looking like a chicken opening my legs for the first guy i see. I didn't even notice the crowd that was recording what i said. she said that i was a bitch and that i was acting like a child. I calmly told her whelp im not the one who stans as a bully since 3rd grade now thats kid behavior.
i honestly don't care i'm just glad i finally stood up for myself and it felt good you should've seen her face.