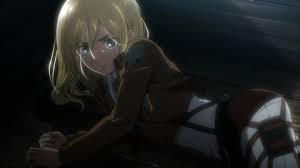 The start.
Kenzie was excited to graduate, but before she could, she had to gas all of the
gas tanks for the ODM gear. When Kenzie was about to gas the last tank, a loud BOOM threw her into the air. Marco stumbled and Jean held on to the wall. When Kenzie landed, she hit her head on a gas tank. "GAH!" she yelled. "Marco ran over to Kenzie. " A-ARE YOU OK!?" he asked. Jean opened his eyes, and found
Kenzie's head is bleeding. She holds her head. " Damn it.... What the hell was that..." She said weakly.Marco stood up, and looked out the window. When he did, he jumped back and screamed. "IT'S HERE! RUN!" Marco grabbed the collar of Jean's shirt, picked up kenzie , then ran out the door. Kenzie looked up slowly, and tryed to stay awake. The blood coming from Kenzie's head, ran down to her Temple. When she looked back up, Marco stopped and looked up. It was the colossus titan, was here.