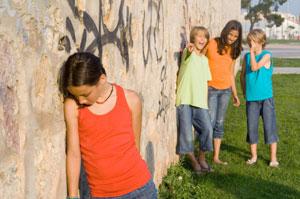 I Thought I Had Friends
Every morning I walk down the street to get to my school. I'm usually with my friends. Today was different my friends stopped by my house waiting for me but when we turned the corner....they pushed me an ran ahead. When I got up I couldn't see them. I started to cry thinking WHY WHY me!!!!
I walked on to school grounds everyone was laughing at me. I just put in my headphones and listen to Cool Kids and TTYLXOX. When I got in the building I took out my headphones. I ran to the restroom and started to cry. I got out of the stale and whipped off my smudged makeup. Someone came in one of the people I thought were my friends Stephanie she said "Oh so sad for you." I replied "SHUTUP!!!" she said back in a rude manor " Ok not LOSER!!" she walked out shutting the door behind her.