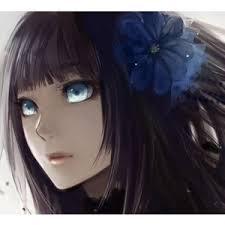 New Girl
Elise blared her ear buds, ignoring her sister Akiko.
"Elise, the least you could do is try not to be so emo." Akiko says as she pulls into the high school. "Youre getting a second chance here. Please dont mess this up."
Elise rolled her eyes.
"Ok, fine. Ill talk to one person today. Thats it." Elise says, getting out and slamming the door.
God, she hated Japan.
Too many people.
She bumps into someone, then goes to snap at them when she sees that its a REALLY hot boy, spilling her already ratty backpacks contents to the ground.
"Oh, sorry. I wasnt watching where I was going." The boy says, smiling and showing off his perfect white teeth.
Her heart fluttered, and she instantly froze.
"Whoa." She says quietly.
He had jet black hair, his skin was like snow, and his eyes...
God damn it, those eyes!
It was like staring into the eyes of-
"God, here let me help you with this." He adds, taking a knee and picking her things up.
She just stands there, frozen and heart racing.
This boy...
This magnificent boy...
"Here." He says, smiling and adding, "My names Sesa."
She smiles, blushing a little.
Polite, too.
"Im Elise. Nice to meet you." She says, holding her hand out for a handshake.
He takes it in his own, kissing the back of it and making her blush more.
"Please, the pleasure is all mine." He states, taking her bag from her and smiling.
"I can carry it myself." She says, looking him in those...
God-like eyes.
"No no, I insist. Please, follow me." He says courtly, leading the way for a love-stricken girl with a dark thought in mind.
That thought being:
He will be mine.