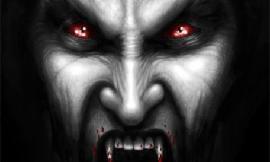 How am I gonna forget this .
It was a chilling January night and I was sleeping as everyone except maybe some internet people and then I woke as I had to answer nature's call(LOL) and the thing was that our bathrooms were out in the courtyard where in between lay a huge mango tree so it was a little scary (okay I admit it was way more than little scary) , I thought if I could just gather up a little courage I can brag to my friends the next day about it so I decided to go and after I had done my work I was just returning when I heard a faint sound of a woman laughing , out of curiosity or what I decided to look up to the monstrous mango tree and I admit it was stupid of me to do that but I did and there were a pair of red eyes staring straight into my eyes from the inside of a white clothe , there are times when you are scared that u scream but there are times that ur so scared that u freeze at the very place and that's what I did standing transfixed as my whole body refused to move as a crushing pain moved through my body and suddenly I blinked and I found my mum shouting at me to be awake and I was lying on my bed and for a split second I thought all was normal but then it came back to my mind I thought it was just a dream but u don't remember so intricately and even more complicated is my discovery of a white saree in my courtyard which very unusual cuz no one in my family wears such a dress . Was that only a dream .
THE MYSTERY CONTINUES.........
~ghost
Writer's note :
This all happened I was 10 years old and still I remember it quite well therefore it can't be a dream so believe it's all very true .
In those days we were very much scared of Ghosts as other kids but believe me I with my friend really went to discover all the truth but all our tries went in vain .
After all this the only thing we got was a white piece of cloth stained with a mark which was something like a Greek omega and an English O but we haven't been able to find it's meaning yet so any ideas are welcome , mention in your comments .