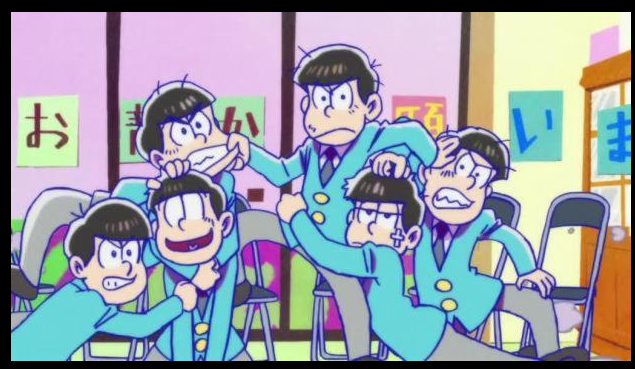 Explanation on the chat
One Evening at the main sixplets house they discovered that Todomatsu was on this website where you can make quizzes, Polls, stories , make your very own pages , and make questions. Choromatsu became curious about this website so he tried to get the iPhone off of Todomatsu's hand but failed to receive the phone.
"私は今、電話Tottyを与えます!" (Give me the phone now Totty!) Chormatsu said angerly. Todomatsu stick his tongue out and hides his phone. Jyushimatsu jumped to him and the others as well.
"私のオフを取得!" (get off of me !) Todomatsu said trying to set himself free from them but to no avail. Ichimatsu grabbed the phone and see what it was and started at him with a calm face. Todomatsu tried to get the phone back but Ichimatsu started to text a girl/boy and her/him respond to the text and toss the phone back to Todomatsu.
'地獄はあなたがやったのは何!' (what the hell did you do!) He said with anger in his voice.He didn't respond and went to feed the cats outside ,staying quiet. Todomatsu looked up what he wrote and just stared at his iPhone for awhile, Looked up again and looked down. Totty started to shake ready to fight someone but Jyushimatsu calmed him down him down. The others tried to get his phone but Choromatsu had a rule and everyone stopped to listen.
誰もが私たちは本当に私たちの成長の男性のために未成熟した小さな子供のように作用するので、トドマツの電話を共有することがあります。そうuが何を言うのですか?
(Everyone has to share Todomatsu's phone because we act like little kids which was really immature for us grown men. so what do u say?) he said calmly. Everyone looked at each other and agreed but Todomatsu.
その自分の携帯電話とイムは共有しません! (It's my phone and I'm not sharing!) Todomatsu said while hiding his phone. Ichi looked at him,stared and Totty said
ファイン私は共有することになります。ハッピー?(Fine i will share. Happy?) The others cheered and looked at the screen. All of them stared to the chat with other people on qfeast.