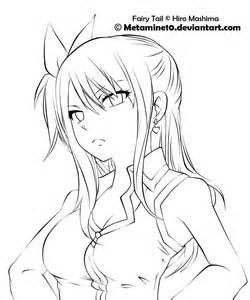 Leaving The Guild
It had been a month. A whole month since Lisanna Strauss had returned from the "dead". Even though the girl was nice enough to Lucy, everyone else who had known Lisanna before her had forgotten her. Even Natsu didn't talk to her anymore, favoring Lisanna and sitting with her every day. No one remembered their "Light of Fairy Tail", as their old one had come back. Only Lisanna herself, Wendy, and Carla even acknowledged her existence anymore.
Lucy sat at a small table in the corner of the main room, sipping a cup of blueberry smoothie and dejectedly staring off into space. Suddenly, Natsu walked up to her table, and stopped to stand right in front of her. Her heart fluttered with the hope that he was going to sit and talk with her, like old times, before she remembered what he was probably here for. She had heard Natsu muttering to himself at the bar the other day, about how she was going to be kicked off the team. Her heart sank, but she was determined not to show her former best-friend-slash-crush any signs of weakness.
Her eyes hardened a bit, but kept her eyes on the table as she tilted her head towards Natsu to show she was listening. She could not bring herself to watch his expression as her said the dreaded words, so she pretended she was utterly focused on her fast-disappearing smoothie.
He did not make her wait long.
"You're kicked off the team. Lisanna's back, and we can't have eight people on one team."
The words stung, but most of the hurt was drained away quickly, as she had been expecting it. She finished the last dregs of her smoothie, and did not look at Natsu as she silently walked away from him to the bar to return her cup. She placed it down on the bar, a confused Natsu staring after her.
"Mira." She called simply, not trusting her voice to say many words at the moment, "I would like to leave the guild."
The guild instantly hushed, and you could hear a pin drop as everyone finally gave her attention, not that she cared. Natsu's eyes were wide, and so were everyone else's.
Mira came over to Lucy, wringing her hands as she stuttered out, "W-Why?"
Lucy finally snapped. The normally patient Celestial Spirit mage lost her cool temper.
"Why, you ask?" She gave a bitter and sarcastic laugh, shocking everyone once more as her face showed sorrow and bitter rage. "Well, let me think. How about, the whole guild has forgotten my existence since Lisanna came back. Oh, wait! Never mind, how about this one? I was just kicked off Team Natsu! Yeah, that sounds like a good one. No offence, Lisanna. You were one of the three people that talked to me."
Mira and most of the others held a look of guilt and sorrow.
"L-Lucy..." Mira whimpered.
Lucy silenced her with a dark look. Erza and Gray looked confused at the last part, but Lucy ignored them. Lisanna looked sad for a moment, before nodding to Lucy and getting the stamp remover. Lucy held out the hand with her guild mark, and Lisanna waved the magic device over her skin, leaving it unmarked in the device's wake. Lucy gave her, Wendy,and Carla a goodbye smile and wave, before walking purposefully out the door.
That day would be marked as the day Lucy Heartfilia left Fairy Tail, and became someone no on thought she would ever be.