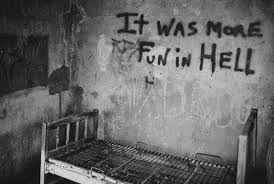 It Was More Fun In hell
I drooped my hair and face upside down, checking if any creatures were lurking underneath before swinging my legs around the bed and suddenly feel a hostile tug at my right wrist. I, sharply twisted my head around to see a handcuff reaching at the bottom of my forearm. I suddenly felt curious of how I never felt this crisp coldness. But then in astonishment and shock I saw cuts and wounds working their way up my arm.
I scream. But not in pain, in disturbance of someone, or something, could do this and leave yet no pain whatsoever. I look up, wincing and I then notice markings working their way across the wall
they spelt 'It Was More Fun In hell'. I cried in fear, screaming as loud as I possibly could. Then spiders, many spiders, made their way under the walls. This was a game, a game to test human sanity.
I thrust and yanked until the cuffs let loose and I slid my slim hands out, grabbing a 1980's magazine and began to swat these spiders with a red marking on their lower body, black widows.