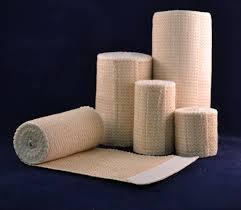 Bandages
10/24
Levi Ackerman, senior student at Scout High School, squinted his eyes, and winced once again. "Oi," he said. "Can't you make it less painful?"
Rose Fritz, freshman, bit her lip and shook her head. "You g-got cut up fairly badly; th-there's not much I can do to stop the pain. I'm s-sorry…" She dabbed the q-tip in the ointment again, and gently pressed it against a scrape on the male's shin.
He hissed and scowled, and Rose flinched back instinctively. And for good reason: Levi was well-known around the school as one of the strongest people to ever attend. Though rather short, he had completely destroyed most of the gym more than once chasing Eren Yaegar, a junior, for reasons unknown.
But this time the Titans had gotten the best of him.
The Titans; the school's first 'gang' if you will. They would terrorize any of the students who wouldn't join them, and Levi was one of the students dedicated to stopping them. Rose's friend Armin had reported the situation to her: they had called Levi short, as well as another senior named Maria Bodt (who was also her friend), and said neither could ever make it in life because of their heights. Levi had snapped, and lost, and now was sitting on Rose's bed as she cleaned his wounds.
"Y-you really should be more careful, senpai...you c-could've died…" she stuttered.
His eyes widened, "You...you're worried about me..?"
She nodded timidly.
"Tch. I'm fi- OW!"
Rose flinched again as he cursed in French. "I-I'm done with the antiseptic now…" she said as she got out a roll of bandages.
Levi watched her blond hair as she worked, wondering why she was being so kind.
11/15
He'd gotten into another fight, this time with Yaegar, who'd somehow whooped his butt. Cue more wincing, cursing, and 'Tch's from him.
"I-I'm really sorry it hurts so much...but you know what they say, the more it stings the better it cleans, huh? Hehe…" She laughed nervously, then lapsed into an uncomfortable silence.
"...tell me, Fritz. Why do you agree to do this?"
Rose looked up in surprise, meeting his onyx eyes with her blue ones. "W-well...I look up to you. You're a role model and you help me with my homework sometimes so…" She bit her lip and returned to his wounds.
12/03
This time it was Jean Kirstein, a not-so-friendly senior who'd apparently stolen some cleaning supplies as a dare.
"What has gotten into you lately? You're normally such a good fighter…" She glanced at his face, then fell backward at his glare. "I-I'm sorry…"
Levi's face turned soft as she began to wrap the bandages.
01/10
Drunken janitor Hannes had beaten Levi Ackerman, somehow.
Rose sighed. "Do you enjoy this, Levi-senpai? Having someone being so careful with you...is it nice?"
"...yes, I suppose...you're gentle…" His face turned into one of surprise when she placed a soft kiss to his forearm.
She nervously looked away. "My mom, before she died...she always said a kiss makes it better…"
He hugged her gently as she started crying.
01/24
"Owww!" Rose whined at Levi's somewhat harsh application of the cleansing alcohol.
"Tch. That's what you get for going at those seniors."
"But they were trying to hurt Armin!"
Levi smirked slightly at her blush. "Never do that unless you're ready."
"But...how do I know if I'm ready?"
He moved himself so that their eyes were at the same level, and pokes her nose gently. "You'll be able to surprise me."
Later, as he was helping her with her math homework, she fell asleep, and he layed her on his couch, and kissed her forehead when he put a blanket over her.