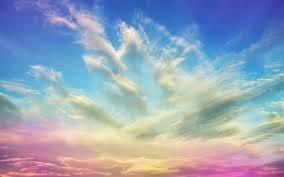 The Fall from the Clouds
I swung my feet lazily over the edge of the cottony cloud. I watched the small world float by almost as if it was on the cloud. "Sweetheart, please don't swing your feet over the edge. You can't fly yet and we don't want you falling off."
"I won't, Mom!" I said rolling my eyes. I looked down again and I knew I really wanted to just jump like I had seen so many other Tutelae do.
"Now, remember, Alae, stay in the house today." My mother said with eyebrows drawn together.
"What? Why?" I said turning from the far away ground.
"Because," my father said entering the room while pulling down his jacket sleeves. "The Proditores are rebelling again but this time they seem serious."
I stood up and frowned. "What do they think this time?"
"They still want to be treated as gods instead of guardians." My father said shaking his head. "They just don't understand that we are not gods; that we are merely protectors of Aquahanna."
"But why do I have to stay here today?" I whined.
"Things are heated now." Said my mother helping my father straighten out his robes.
"We don't know if the debate will get out of hand and even violent." my dad said.
"We just want to make sure you're safe." My mom said kissing the top of my head.
"I'll be fine mom." I said bored.
"I know." She said smiling.
"We're going to the Chapel. We'll see you later tonight." My father said hugging me.
"Bye, guys." I said waving. They smiled at me and opened the door. What happened next was such a blur I could barely see what happened. Men dressed in black clothes but their wings were outstretched and overbearing. Screaming and yelling ensued and I stood frozen on the edge of our cloud. The men seemed infinite as they poured through the weak walls of our house. My father yelled and I saw a skyblade rise from his tight fists. My mother screamed but another blade of crackling light shone from her. The men though had some other form of weapon; one I had never seen before. It was a blade and looked similar to a skyblade but instead they smoked and sizzled and seemed to be boiling. A man not much taller or bigger than I, began to approach me at a frightening pace. Suddenly the blaze of my father's skyblade broke through his chest and the Proditore fell at my feet. I screamed and staggered back but there was no cloud there. I swayed and flailed my arms and my father caught me and pulled me to him. With another incomprehensible yell, he pushed me away and I dove behind a couch.
Another scream and I looked over the couch just in time to see one of the sizzling blade pierce my mother through the heart. My stomach flipped and my head fely dizzy as I watched her pained grimace turn flat and lifeless. I looked to my father and he had frozen at the sight of my dead mother.
"Joanna!" He screamed. Never had an expression shown as many despaired emotions as the one he wore then. He tried to make his way over to her but the men overtook him. I did not see him murdered for my tears protected me from the atrocious act but I heard the whisper of his soul and my mother crash together as they traveled higher than the clouds.
The deafening silence shattered as a man called out "Alae, we know you're here." Footsteps approached and I couldn't escape. I knew I was trapped. I looked around me and the man my father had killed to protect me still lay next to me. I reached for the boiling blade and grabbed it. Two men came at me but as soon as they were within reach I swung the weapon crazily. They yelped and backed off. I made contact with one and I watched horrified as his upper arm sizzled with an acidic poison. Unfortunately, I had no idea how to handle the sword and some of the same acid that corroded the villain's arm got onto my hand and I csreamed as my hand shook, blistered, and burned with the toxin. A man approached me and I backed up.
"Watch out!" He shouted. I couldn't figure out why he said that until I felt nothingness under my feet. I fell back but my hand was caught by the man. In a fit of panic, I reached up and grabbed onto the only solid thing near me: the man's mask. The mask though was not stable and I ripped it off his face to my shock. He wasn't a man and he wasn't a Proditore. He was a boy, not much older than I and he didn't have the classic look or marks of a Proditore. But now was not the time to think about these things; men reached for me and tried to pull me up but in the confusion all I felt was emptiness. They had dropped me and now I fell. To young to fly and unable to control myself as panic gripped me, I tumbled through the air. Finally, my brain turned back on and I flipped myself in the air. I was falling at an incredible speed and I knew I needed to slow down. Gritting my teeth, I spread my wings. They were stiff, sore, and unready for the wicked abuse they were receiving. Nonetheless, the wind caught within the young feathers. It felt almost as if they were ripped from my back, the wind hit them so hard but I had slowed down significantly. Not slow enough though. I still fell at a fatal speed and I wouldn't survive if I hit the trees. I looked around through squinted eyes and the glint of a lake caught my eye. It was far away though and I wasn't sure if I would have time to angle myself though. I had to try though. I leaned and found it easier than expected to adjust my direction. The lake looked as though it was a crazy monster trying to devour me but I needed to stay focused. If the lake would catch me and keep me alive, I didn't know. All I did know was that it was my only chance. 900 feet-800 feet- 700 feet- 600- 500- 400- 300- 200- I curled into a ball and dropped like a stone. The water split beneath my feet, jarring my body and sending red hot pains through me. I sunk and sunk and sunk until I hit the ground. My lungs burned and I turned my face to the surface. It seemed so far away. An impossible task for me but I wasn't going to die now. I planted my feet in the soft dirt and pushed off. I swam using my one working wing and it seemed like the surface was only getting farther away. I kept going though and bright flashes of light started to swim in my vision. I reached my hand out for another stroke but found air instead. My face broke through and I heard a yelp of surprise. I opened my eyes and I found a shocked face looking down at me.
"Help me." I choked and with that I felt hands pull me out of the water and everything went black.