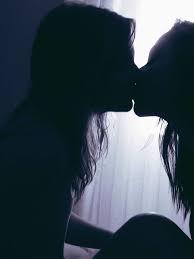 You're My World.
Penelope walked alongside Louise, a soft smile gracing her pink lipstick covered lips. Her sky blue eyes shining as she spoke to said woman, her Scottish accent coating every word she said. Louise took note of how the pastel dress Penelope had chosen complimented her pale and freckled complexion; took notice of how Penelope's Strawberry-Blonde framed her face perfectly, and how it seemed almost pink in the sunlight.
In Louise's eyes, Penelope as a whole was perfect. But, at the same time, Penelope was a enigma to Louise.
She was with the Scottish woman almost everyday, understood her completely and knew her like the back of her hand but at the same time, didn't.
Louise brushed a Dirty Blonde lock behind her own ear, still listening closely to every detail of the story of how the other's cat had gotten stuck in a blackberry bush while in the process of trying to get a butterfly. God, she loved Penelope's voice. So soft and kind, it gave Louise a bubbly feeling every time she heard it.
Penelope was Louise's love, her life, her everything... She loved the other woman more than anything
Louise stepped onto the train, Penelope following close behind. Penelope took note of how beautiful the tan woman looked in her skinny jeans and sweatshirt. Penelope reached up too grab the pole and in the process of doing so, her hand brushed against Louise's, and she smiled lightly. Louise looked down at her (due to the fact she was a head taller than her) and she looked into those dark blue pools of color called eyes.
Penelope let her free hand graze lightly against Louise's until said woman linked their pinkies together, causing Penelope to lightly giggle and blush. Louise just let a content smile fall on her own lips. Penelope listened to her make small talk. Mostly about the recent spurts of rain they had gotten in their home town. This caused the Scottish woman to become drowsy, not because it was boring her, rather she found Louise's voice calming and soothing. Kind of like the sun after a storm.
Penelope stepped off the train hand in hand with Louise, noticing how the woman's eyes sparkled when she spoke of the new shark specimen they were getting at the Aquarium. Penelope loved Louise. Honestly, she would give her life for Louise. Louise made her life complete. Louise was her world.
The couple walked into their apartment, still chatting as they did. Louise plopped on the couch; Penelope followed soon after. The Strawberry-Blonde closed her eyes and didn't open them until she felt a arm wrap around her shoulders. She looked over at her Lover, giggling softly before saying a quiet "Hello there." This caused Louise to smile, "Hi..." she said softly, taking in the beauty of Penelope before leaning forward and placing a kiss on her soft lips. When she leaned back, she spoke once more. "You're my world..."
Penelope smiled and placed another quick kiss on the other.
"You're mine too."