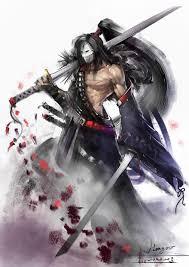 The Warrior
The samurai looked at the black mountain dragon, thinking of the deal he proposed.
"Give up my humanity, and any chance at going to heaven, in exchange for eternal life and God-like combat prowress?" He asked, repeating what the dragon said.
It growled in conformation, then said, "All so you may rule the world as a prince."
The samurai thought on this.
This could either benefit him in the future, or...
"Fine." The samurai says, aiming the sword to his chest. "I'll do it."
The dragon smiled, then, when the warrior stabbed himself, began the long and painful process.
"There." It said, smiling wickedly. "The process is complete."
The samurai felt... different.
Stronger.
Healthier.
Deadlier.
"Thank you, great mountain lord. I shall not forget this kindness." He said, bowing respectfully to the dragon.
The dragon chuckled, then said ominously, "Oh, trust me, Warrior. You will forget, and you will not forgive." as he flew out of the cave and into the midnight sky.
The samurai was left confused and wanting.
He didnt know what the dragon ment, but he fept as if it would reveal itself at the right time.