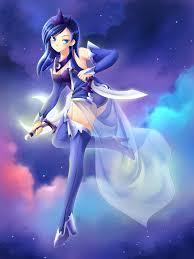 Lunar decisions
Luna pov....
My choices had long ranged in my head and my decision was made before any other thoughts could sweep it back out. The thought of me in high power blood staining my face and slowly washing back through, down leading my mind into a farther long black abyss. Letting me drown in the thought of no longer being weak, no longer being alone, having something that at least slightly resembled a family. Without a doubt in my mind I knew what my decision would be now I just had to wait for someone to realize that I had my mind made up. I also knew that he needed to realize that if my decision works in my favor that things would change. Picking my head up slightly at the sound of L.J.'s laughter as the door swung wide from the frame. He looked me dead in the eyes as I felt the presence of another behind me as the sound of a elongated click released me from the confines of the silver cuffs that bound me to my past. A long black Trendal slipped in front of MY followed quickly with what I know as Slenderman from many of rumors and legends. L.J finally seemed to get around to what I wanted him to ask, looking at me seriously and all laughter fading from my sight of him. He looked me dead in the eyes, the shifted slightly towards Slenderman as if attempting to tell him something that I wasn't to know about. A booming voice grabbed my attention Luna, from the line of Petrovas are the? I glanced around in confusion before I realized that I had heard Slender and that the sound was only in my mind, swinging to face him I answered him with a yes.
My child has given you the choice to join us. This is a decision that must be thought of before a decision is made, once you choose whatever you do there is no going back. Have you a decision made? His booming voice asked.
Looking into what would have been Slender's eyes. I knew at that moment then that my choice was real. I knew at that moment that I wanted nothing more than to slather myself in the pain of others to enjoy myself. I knew that I would be happy with decision I had made, I knew that my life finally had meaning and that by answering this my destiny was becoming reality. At that moment I knew that I would be A Creepypasta and I would throughly enjoy my life in being one. Looking at Slender I gave him I grin as he through his head back and his voice thundered through the mansion after hearing my thoughts, everyone welcome Luna, for she will enter training and become a Creepypasta.
Hey guys another update as promised, thanks for those who still read the simply sweet series I'm coming out with another story definitely a BEN story, it will be called the glitches chance and if you want your of to be featured just comment on one of my polls or questions I'll have a question up about it soon and feel free to point in ideas at any time as everything you say will be taken into consideration, Thanks!
?Bri DROWNED?