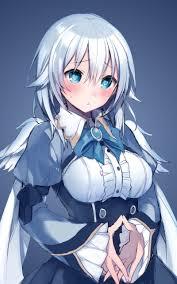 Kara
Kara ran down the hall, late for class again. She had to take her puppy to the vet because the goofball had eaten her car keys, and she couldn't drop him off at home, which is why he was in her backpack.
"Aku, shush! You'll get me in trouble!" She says to the pup who had poked his head out of the bag. "Sush!"
It was the first day back at school, and she didn't need any trouble right now!
Or ever.
Or both.
"Miss Nuni, would you like to share what you have said?" The teacher asks, stopping what he was doing to deal with her.
She pushed the pups head down into the bag, and looked at him.
"Uhm... Th-the answer is uh... Two...?"
The teacher raises an eyebrow, then nods and purses his lips. "Eh, you got half of it correct. Three nations originally joined..."
Kara lost her train of thought, having to deal with her puppy. The puppy kept whining until he eventually wiggled his way out of the backpack and barked, running around the room.
"Gyah! Where'd that dog come from?!?"
"I'm sorry! I took him to the vet and-"
"I'm allergic to dogs!!"
"Aiyaaa!"
The puppy jumped on the teacher, licking his face and barking. The teacher flipped out and tried to get the dog off of him, but ended up busting his ass and breaking his glasses.
Kara tried to pull him off of the teacher, but couldn't because the little fücker was too fast.
He ran around the room, barking at random kids and even peeing on one's shoe.
Kara snatched the puppy up as the giant if a boy slowly stood up, his tallness imposing all the kids there.
Kara looked up at the boy, right into his icy blue eyes.
Kara just...
Couldn't...
Look away...
"Your dog pissed on my boot." He says, no emotion in his voice.
She nodded dumbly, jaw a little slack.
He was so tall...!
"Well..?" He asks, crossing his arms. "Say something."
She tried to speak, she really did, but she couldn't hear herself over the beat of her heart. It sounded like it was going to explode. Her breath quickened a little, and her face blushed. She felt herself shake in his presence, and she slowly curled into herself. She stumbled for her words, feeling the world around her slow to a near halt, the lids fade into the background.
"I-i'm sorry... Kuzo gets excited..." She just barely whispers, a sudden thought going through her mind.
What if she suddenly kissed him?
"Hmph. If you're gonna have an animal here, make sure to bring an animal diaper. Otherwise someone might hurt him."
She gulped, and Kuzo whined a bit before the boy scratched behind his ear. Almost immediately Kuzo kicked his leg and whined happily.
Kara giggled.
"I'm Sesa."
I-I'm Kara... Its nice to meet you..."
He nods and sits down as the teacher grabs her shoulder and escorts her outside, towards the principles office.
Maybe she'd ask him to the arcade later...