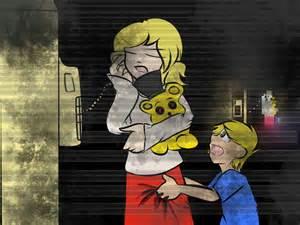 The phone
I was on the phone, talking to this weird man. "Watch the future." He said.
"Watch it? I am!" I complained.
"Seems like you're not. As I see, you're not watching your son." I looked down to look at him, Charlie wasn't there.
I cried. "You!! This was you!" I cried into the phone. I hanged up, wondering how he knew.
This was some strange stalker! I cried saying, "Charlie! Come out!" I looked around.
I looked up, and saw a big pizzeria Charlie always wanted to go to. "Um... This must be the place he is hiding at.." I told myself.
I ran inside. The doors made a big slam. I looked inside, and saw no animontronics on the stage. I slowly cried.