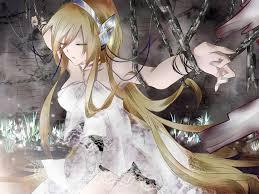 Life story
I am Casey, I am a slave. Two simple statements, one I know is true. I am a slave, bought and sold. I'm not even sure if Casey is my real name. Probably not. I dont know what age I am but I will probably find out today.
I am being sold, at any price, the guards are willing to change depending on the interest they get per day. That is, if anyone wants me. I am deathly pale from the lack of sunlight and my hair is a natural brown. I am thin to the bone and I have scars and bruises all over my body which remind me of my captivity. On my back, a U is branded into the delicate skin, signaling I am untrustworthy. This is not true but it was painful enough getting the brand not to mention the embarrassment. People can pay a small fee to walk into the cage and lift up my t-shirt and see my brand. Most do and when they see the U they mutter things like 'no chance' and 'she's destined for the gallows'. Others look quizzically at the guards and ask what I did to get this brand. They all say the same 'That girl misbehaved, real bad too,' and they walk away, almost every time. They can also check my condition, skinny and bonny as I am. All but my eyes and my hair say 'shes been to alot of homes'. My owner got rid of me because of the unchangeable state I looked. Before that I had a terrible place which treated me like a animal.
They put me in a tiny cage, which had just about enough space to sit down and made me wear a small, torn thin rag as clothes. They threw me around like a toy and beat me till I was bleeding, till I thought I was dead but I never got that relief. They starved me until I begged for death, but they never did. Where would the fun be in that? They once, in the dead of winter when snow was on the ground, threw me into the terrible cellar. It was cold, dark and the rag did nothing to protect me from the shaking wind. My teeth chattered so hard, they made me wear a gag, which was old and smelly. It was nightmare and the only food they fed me was rotten sludge, which I couldn't even guess what was in. But I ate it, because it was the best I could do. Then when spring started to arrive, they chained me to the floor of the rooms in the house and made me clean and scrub for them to only mess it up seconds later. There was nothing I could do. When I did this, I was kicked and punched but forced to work through the pain. The only thing I can thank them for was the tolerance of pain that I built up. I was hurt and weak. After a while I got old and boring and the kicks got harder, the tasks worse. Eventually they got rid of me.
The next home was worse in a sense. When I was still up for buying, they pulled curtains around the cage. And lifted up my t-shirt. but instead of stopping there they took all my clothes of and examined me. It was awkward and cold. Only my underwear was on and they stared very intensely. They poked the bruises, which stung and then got the guards to drag my week, form. They toke my clothes of me and stuck me in a cage for days on end. They never gave up tormenting me. It was more emotionally traumatizing. I hated it and I went crazy. I think I have managed to grab onto most of my sanity again. But I can't promise anything from it.
But now I am back to the same place as I was and I hate it.