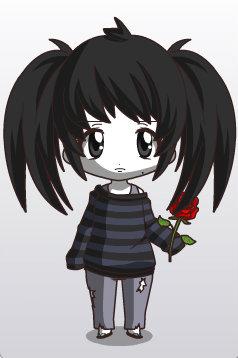 Silence
Minx's sad eyes drooped, she mourned all throughout school. She wasn't a very happy child. Minx slumped onto a bench. She poked at her lunch. Nobody ever sat next to her, for she was 'evil,' as the other children said. She slurped her soda. 'Where's everybody gone?' she thought. Nobody was around her. She scanned the room, soon realizing that lunch was over. She grabbed her bag and zipped down the hall. 'Crap!' She thought. 'I'm gonna be late!' She grabbed the wall to go around the corner and soon ran into Ms. Finn, "Huh? Oh... Hello Minx. What're you doing not in class?" Minx panicked, "Oh, um... I was just using the bathroom." Minx smiled, thinking it was a good excuse. Ms. Finn sighed, "Get to class," Minx nodded and started running down the hall, "Don't run!"
Ms. Finn called to her. Minx got to class and plopped down in the back. She pulled a red rose out of her backpack. It was the only thing she had to remember her dad by. Her mom was always at work, she was quite a lonely child. She heard nothing. She looked up and jumped back in her chair, dropping the rose. 'School's over!' she grabbed her bag and shoved the rose in it. She threw it on her back and ran out of the school. The bus left just as she got there. She sighed, and started walking to the graveyard. Meanwhile, Mye followed Minx, thinking, 'where's she going?' Minx stooped suddenly, and Mye jumped behind a tree.
Minx looked behind her. 'Nothing...' Minx thought. When she looked forward a group of bullies jumped in front of her. They were much taller and stronger, yet Minx was much smarter. "Aw, look at little Minx here, lost on her way home," Bill pushed out his bottom lip, looking sad. They were mocking her. She grabbed a knife out of her backpack. They stepped forward, and laughed. "She thinks she can hurt us with her little toy!" She twirled her knife in her fingers and popped her gum. They laughed and then bill pushed her against a tree. She giggled quietly. She mocked them slowly looking up, "hey think they can hurt me with their little fists..." Bill let her fall on the ground as she laughed. Bill punched her right smack in the nose. She laughed harder and once she calmed down Bill and his little gang got ready to punch. She threw her knife at Bill first, aiming for the forehead. Her math skills came in handy for aim. She made her target. Bill fell into an empty grave. She quickly slashed the other three. They fell on the ground and she kicked them into the grave too. She grabbed a shovel and covered the grave. She popped her gum and threw the shovel to the side.
She twirled the knife in her hand and walked away from the graveyard. Mye lay next to a tree near the graveyard. Minx didn't notice her. Minx swiftly turned around a couple minutes later. "Mye." She whispered, and then threw her knife at the tree. Mye quickly pulled the knife out of the tree. She held it out and backed up as Minx whipped out another knife. Mye dropped her knife and the fear grew in her eyes.