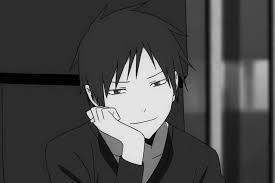 Book
They met one strange day in Ikebukuro. She had been running, running from a man with a chainsaw blade on his leg, and got caught in an alleyway and collapsed from exhaustion. She initially refused the help of the great Izaya Orihara, but he saved her anyway and carried her to one of his apartments, her protesting all the way of course. She fell asleep on his couch, and he started typing.
Izzie Bradford had come at his request to heal her knight, and she did it, but said knight had turned into a twelve-year-old evil genius. Oh, how proud he was! At least, he would have been if she hadn't tried to kill him. Because of her violent temperament he'd locked her in a spare bedroom, and he started typing.
He didn't find a cure for reverse aging, and it had been two weeks already. She had to wear his clothes from his younger years, along with one of his coats as it was winter. December, precisely, so she had gone shopping for the man who'd given her food and shelter. However, her short dark hair and slender physique provoked Shizu-chan while she was in a jewelry store. Back at the apartment, he was tending her wounds and had her take of the coat, and he felt something in one of the pockets, and pulled out a box containing a ring. She turned tsundere and explained that she'd wanted to give it as a Christmas present to him, but she hadn't gotten a chance to pay before the blond went off. He finished with the bandages, and he started typing.
Finally she was back to normal, taller than him. Her hair was still short and she still had no clothes, and it was Easter, so he went out and bought her a few outfits that resembled his own, but were much more feminine. She took one look at them, and threw them at his face and left. He was extremely confused, and he started typing.
Six months later, he received an invitation to a double funeral. Along with it was she, who tore it up, saying to forget about it. She invited herself in and looked around, looked at the couch, and her spot was still there so she flopped onto it. He chuckled, a short and fond laugh, and closed the door. Then he went to make her some tea and brought it to her, and he started typing.
They were wed, the next year, her only nineteen but much more mature than he. She came in from the party, stumbling, and collapsed onto the couch. He had Celty bring a burger, and he took her to her old room when she was done and asleep, and he started typing.
In the May of the twentieth year she was alive to see, he asked her if she would go to the bookstore down the street, on the corner, and pick up a book called Heart of Fire, and she did. When she got back he told her to read it, and she did, and she looked up at him when she was finished. It was their story, from meeting to the month before. She asked where it came from and why their names were in it, and he smirked fondly, and wished himself a happy birthday by tapping her nose, and he started typing.
He would never have thought he could love Violet Gropius, but he did.