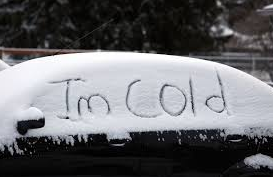 "I'm cold."
Lucy Walker paced her room, awaiting her punishment. She nervously twirled her long blonde hair. She forgot to take out the trash, and last time she forgot to do it, her parents beat her black and blue.
The wind howled outside as the snow beat against the house.
Her dad barged into the room, and grabbed her, pulling her through the hallway. He yanked open the front door, and pushed her outside into the cold, and put on his own jacket, and stood there with her. All she was wearing as a tank top, and shorts.
"This is what happens to bad girls that don't do what they are told." He says. Lucy shivered, about to pass out. It was WAY below zero.
"I-I'm c-c-cold." She stuttered, before dropping to the ground, dead.